Finally, we are heading toward 2nd base on this 32" Santa. The boots are now finished being sculpted. What a relief that is! Tomorrow, if I can manage some time, I'll begin the painting process on the 32" Santa. Once the painting has dried, I can then begin to assemble his body and work on the stuffing and sculpting of the soft body to give him formation.
Here are the pics of the 32" Santa boots. Sorry for the bad lighting, but I took them in my kitchen and we have such poor lighting in our 100 year old home. I couldn't wait until tomorrow to take the pics out in day light, which is how I normally like to take my pics. At any rate, they are enough for you to get a general idea of how they will look anyway.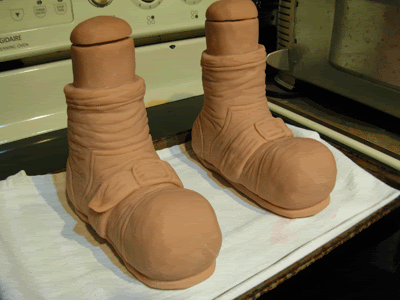 I hope you enjoy seeing his boots! I had a lot of fun sculpting these. Took me an entire day to complete them.
Until next time,
Big hugs and take care,
Lori