For any that might be following my work. I wanted to take a moment to put up some pictures of the current Santa projects that I am working on. Some, who have visited the forums I frequent will have seen these pictures already.
This is a head I'm working on for a Santa that will be about 32" high. I still have to create his neck and breastplate. Then his hands next. They always look so funny before they have their hair attached to the head. lol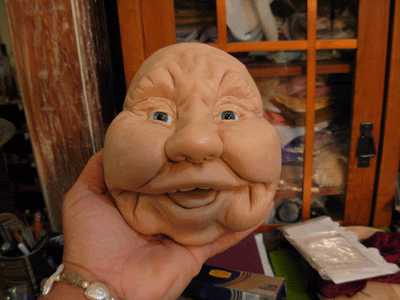 Another picture of the same head and a couple of his buddies. The smaller 2 heads will be 18" santa dolls once completed. One of the smaller ones still needs to be completed in the sculpting stage.
Here is my 18" "winking" Santa. He needs to be attached to his body that I have just completed. Then, dressed and have his hair put on him.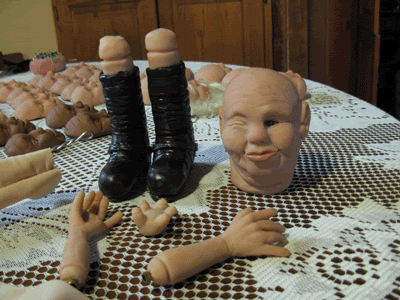 These are the ornaments I am working on as well. I believe there are 52 of them in total. As you can see, I am also creating African-American ornaments too. Each ornament is a one-of-a-kind ornament and do take a bit of time to complete surprisingly enough.
A close-up of some of the ornaments: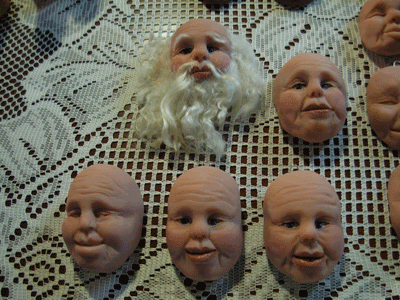 Another close-up of ornaments in the works. You can see how individual the faces are here I think.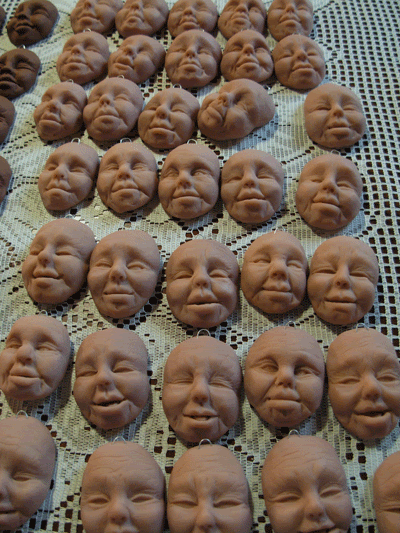 I mentioned earlier that I visit a few forums. The 4 forums that I frequent the most are
www.santamakersguild.com
,
www.ooakdollart.com
,
www.thefairysociety.ning.com
, and
www.ooakguild.com
. There are a few others doll artist hang-outs I will be looking into soon. But, for the time being, these 4 are enough for me. :-D If you have a chance and are interested in knowing what other doll artist are working on, these forums are a great insight to catch a glimpse of their work. There are so many talented people out there that it is really amazing to find them all located in a single venue!
Anyway, I hope you have enjoyed looking at my WIP pictures. Hopefully, this weekend, I'll have more to share. For the time being, it's time to actually go and take a break and catch some t.v. for a change!
Take care,
Lori