I figured it was time to take a much needed break from working on the ornaments. If you work on something too long that is repetitious, I think it starts to bog your mind down. So, it was time to pull out the winking santa that I had pictured previously since he was ready to be assembled. Here are the pictures of the progress so far. He now has a body and hair on his head! He is beginning to look more and more like santa. :-)
Front view:
Side view: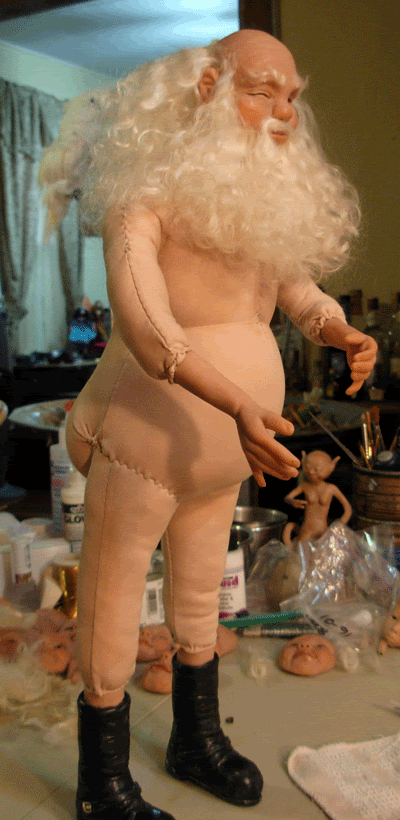 Another side view: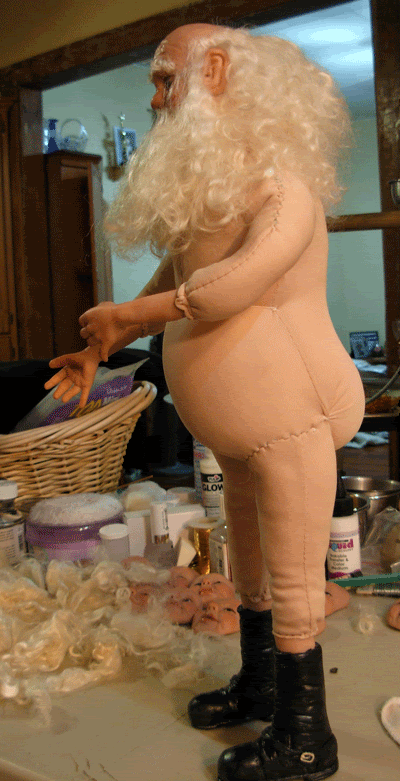 A picture of his bum: lol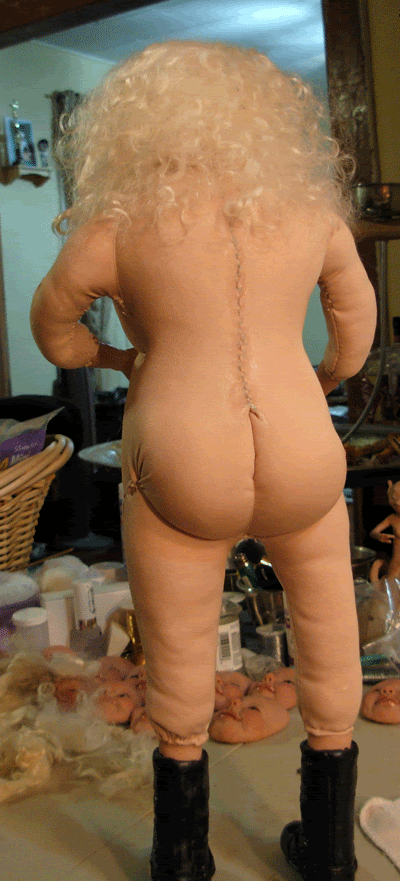 And a close up: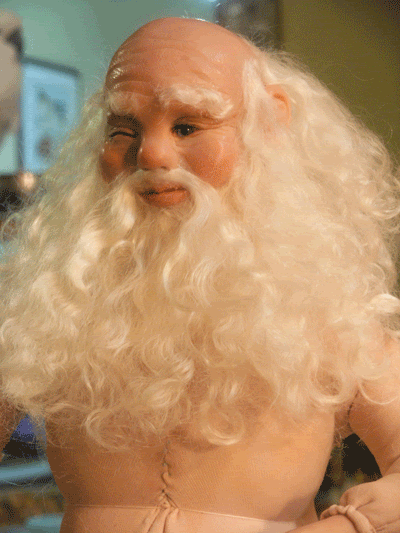 As you can see, there is a lot of work that goes into creating his body. His head, hands and feet are made of polymer clay. He has a soft sculpted body with a wire armature inside, making him gently poseable. There are many stitches that go into creating his sculpted body. In other words, there is a lot more to it than just throwing his head, feet and hands onto him. :-D His hair is natural sheeps wool and is applied a little at a time. It is also a very time consuming task, but, in the end it is well worth it! Interesting enough, you can see that he is self-supporting and can stand on his own. But, even still, I will create a base for him to stand upon for his safety. Sorry about the messing work area. I had just finished putting the last bit of hair on his head, and I couldn't wait to show everyone the progress. Besides, that, you can see ornaments on the table in the background that I am still working on. :-D
Anyway, I have been thinking on his pose and what I wanted his story to be for the last few weeks. Sometime, it is hard when it is just a head laying on the table looking at you to find a doll's story it wants to tell. It wasn't until I was putting the hair on his head, that I think I know his story. We will see how his progress goes in the time to come.
On another note, I am sad to say, that Edelweiss did not sell on ebay this past week. That can be discouraging sometime, but I know that there is a special person out there that is meant to own her one day. So, for now, I will put dear sweet little Edelweiss back in her box and hold her for safe keeping.
I hope you have enjoyed the update. Hopefully, I'll have more to post soon. Keep watching for the next set of pictures.
Take care,
Lori