It has been some time since I was last able to post, give or take a few weeks. The surgery went great, and my foot is looking more like a foot now. It slowed me down a little as you might have imagined, but in the meantime, I was busy working on the santas to have them completed.
Well, here is the one everyone has been waiting for I think. I had been searching around trying to find a place to take a picture of him because he is so tall and I needed the appropriate lighting. Unfortunately, no matter where I went and no matter what I did, he wanted to tip forward, even in his stand. Finally, I found a place in my kitchen with enough light and took a picture. Unfortunately, I realized he was missing his prop, which was supposed to be a stick horse he would be holding in his hand. Well, I turned to grab it and he did a face plant smack dab in the middle of my kitchen floor. The first thing I seen was bits and pieces of his fingers in all sorts of little pieces. Immediately, I knew those were not repairable. So, I stood there with my mouth all agape and I didn't know whether to cry or to get sick. Slowly, I mustered up enough courage to pick him up and inspect his face. Luckily for me, that was unscathed. So, the only harm done was his hands and a couple of scratches to the front tip of his boots. Long gone are those marvelous hands. Unfortunately for me, I do not have time to redo his hands before this weekend. Which REALLY makes me very mad and I could spit fireballs for it since he was supposed to be my center piece for my display. So, now, I'm left with trying to figure out what went wrong and how to fix it before the next attempt. I think the armature was a bust to begin with even though initially it felt like it was nice and strong. I should have just went with my better judgement and used pvc. But, that is what I get for being in a hurry and doing what I thought was the next best thing. So, anyway, I think I can get his head off the armature, maybe his boots if I'm lucky. I know I can get his suite off and I can always remake his skin. No biggie. But, it's just the time it took that makes me sick. Well, anyway, here is his picture before his tragic accident. Hopefully, I can bring him back even better the next go round. But, without further adieu, here he "was/is". Again, do not be so sad, he will be back again, stronger and better than before. If I made him the first time, I can do it again!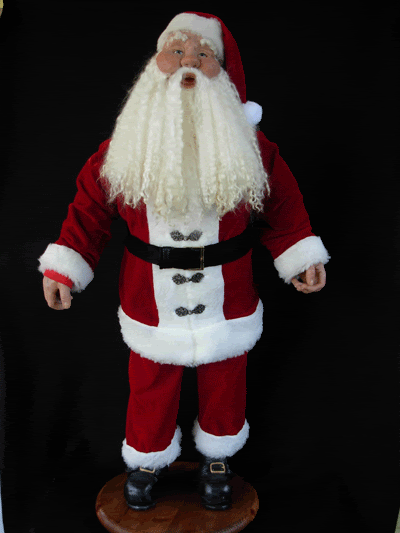 Now, the next 2 are the 18" santas.
The first one is called "Harness Inspection"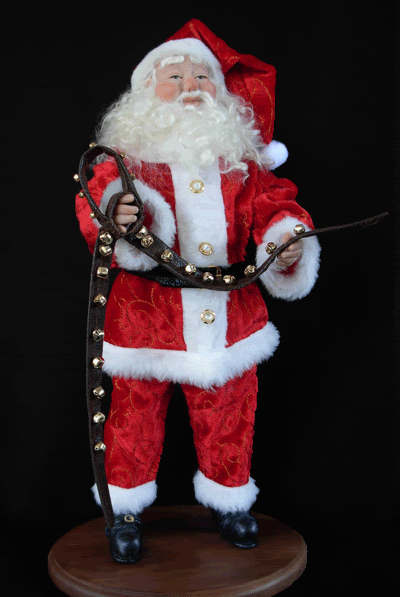 The next one is my winking santa: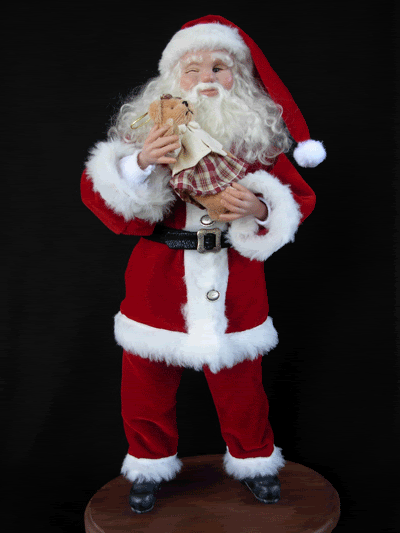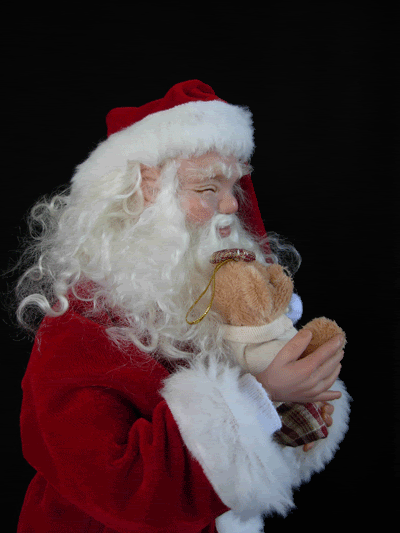 At any rate, I'm truly sorry you had to wait so long for these pictures. But, sometime circumstances fall into place ahead of the best laid plans. Hopefully, there will be more santas to come before the Holiday season kicks in. I also plan to add a couple of African-American Santas as well. In the meantime, I will be rethinking the tragedy above with the 40" santa.
For those of you are are local to me, you will be able to see the 2 santas along with my other available dolls this upcoming weekend at Lake Square Mall for their 1st craft show. I was really hoping to have the 40" santa, but I really do not think there will be enough time to recreate his hands in such a short period of time. I will have to wait to have him ready for the festival in November at Lakeridge Winery in Clermont, Florida. Perhaps, by then, I can perfect the armature and maybe have another 40" santa ready to accompany him.
I hope you like them. I would love to hear some feedback on them as your comments let me know what you think of my work. Good, or bad, it is how we grow as artist.
Hugs to all,
Lori