Yes, you read it correctly! One of my Santa's made it into a nationally distributed magazine! Doll Crafter and Costuming, December, 2009 issue, Gallery section, pg. 44. You can buy your copy of the issue at your local news stand or you can order it online at
http://www.dollccmag.com/
in case you are interested in owning your own copy.
Albeit, it is a small spot in this wonderful magazine, but even still, I can not tell you all how excited I am about it. Thankfully, my wonderful doll-making friends from ooakdollart.com forums notified me of the publication, otherwise I might not have known it was out on the news stands by now! It is so nice to be surrounded by wonderful friends around the world. My special thanks to my friend, Natalie, for giving me the heads up. *hugs*
Here is the Santa that was put into the magazine: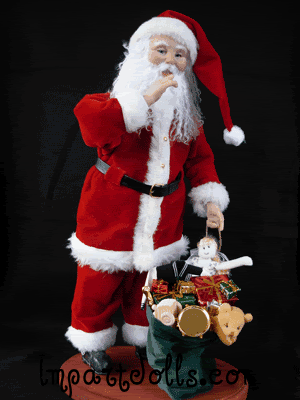 "A Right Jolly Old Elf" is an 18" prosculpt over wire armature with poseable cloth body. He has glass blue eyes, and tibetan lambs wool hair. He is free-standing on top of his stand that I made him. He reminded me of the peddler just opening his sack in the story "Twas the Night Before Christmas" and thus, it is how he come by his name. He received an Honorable Mention from
http://www.artdolls.com/
2008 Santa contest this past holiday season. He was my 2nd Santa I made, and it was my first contest that I had ever entered with one of my dolls. Needless to say, I was deeply honored to receive the honorable mention, and now, flattered that he is published. For any that might be interested, he is still available for purchase!
Last week, I posted a picture of a WIP of what is to be a dark fairy. I apologize that I forgot to take pictures while I was working on her. LOL That is how it goes when you get busy working on these things. Even the best laid plans seem to fall astray from time to time. My intentions were to take more pictures of her mid way through the process. But, alas, she is nearly finished, so I figured it is best to wait for her to be completed since I am now so far along on her. I would say that perhaps in the next couple of days, I will have some pictures of her to put up. Be patient, that will not be long!
And, as a final note, I just wanted to say a special "thank you" to all my friends at ooakdollart for voting me August's Most Valued Member. I can not tell you how special it is to be recognized amongst my peers. I was both shocked and honored at the announcement. So, to all of you, thank you, for your friendship, your encouragement, and for believing in me. *hugs*
In the meantime, take care to all and hope you come back again real soon.
Hugs,
Lori