Hello everyone here in
blogland
! The day has arrived!
I know you all have been hanging off the edge of your seats waiting for this wicked witch to be finished. I was truly sorry she could not make her debut on Halloween night with the rest of the scary witches, but,
heh
, better late than never! She was a lot of work, but, I think she was well worth it. I had a great time making her, even if she was not finished by my deadline. Even the best laid plans can go astray sometime.
So, now, the long-awaited details! I call the Halloween Duo "
Helspeth
and Catnip", after all, what is a witch unless she has her familiar with her?
Helspeth
measures 14.5" tall without her hat, and she is a
pose able
doll. Her head, hands and feet were sculpted from super
sculpey
and painted with acrylic paints. She has a cloth body with wire armature. Her hair is made from natural lambs wool and feels just as wicked as it looks. She has hazel colored glass eyes. Her clothing is custom made and is not
removable
and consists of a satin shirt, striped cotton underpants/bloomers that are fit for a witch of her stature, and a overdress and her witches hat, made out of a special designer fabric that looks like it has seen years of use. She comes complete with her special broom and her potion. Her potion is made out of a glue-type substance that glows in the dark! Yes, it really does glow a nice green color! I tried to take a picture of it, but the pic might be hard to see the glow. *shrug*
As for Catnip, he is also made of super sculpey and painted with acrylic paints. He measures about 3.25" tall. The entire display measures at 20" tall and 12" x 9" base bottom. Helspeth is removable from her stand, and so is Catnip. The potion bottle is permanently fixed to her hand, but her broom is not.
Anyway, I would love to hear your feedback on what you think of my Helspeth and Catnip! I know the picture quality is not the best. Seems like I am having the devil of a time trying to take pictures lately. At any rate, I think they are well enough to get a good idea. :-)
Enjoy!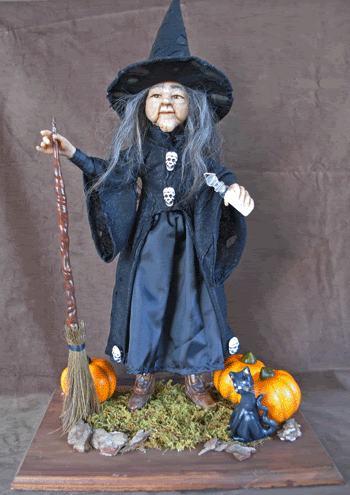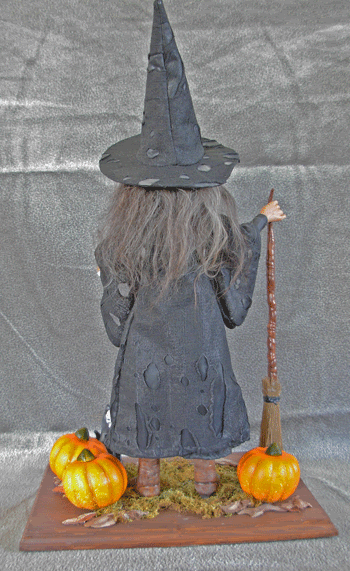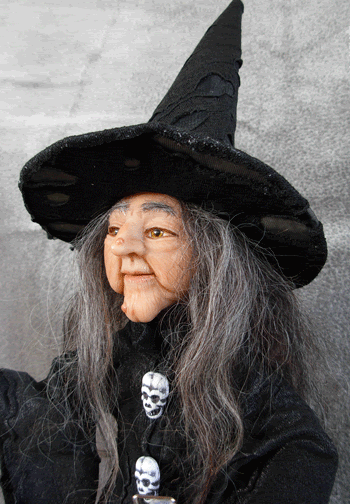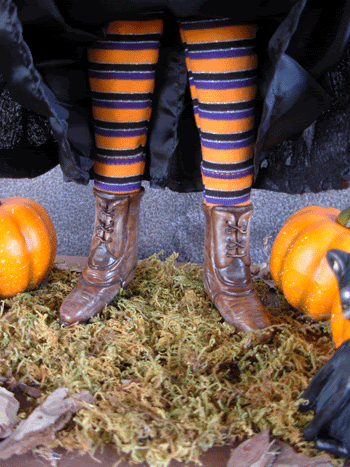 Anyway, I hope you have enjoyed the pictures! If anyone is interested in this doll, please feel free to contact me. I will be at Lake Square Mall in Leesburg, Florida, on Thursday evening, November 5 from 6 pm-9 pm with my display for their event "Ladies Night Out". I will have her at the display along with my other dolls that are available. At the moment, I'm not sure where in the mall I will be located, but if you are interested in seeing this doll or any of my other dolls in person, they would be delighted to meet you! If you live in the neighborhood, stop by and say hi as I would be so happy to meet you!
Well, off to the next project! Stay tuned for the next set of WIP pictures.
Take care,
Lori