I know, I know, I deserve a good thrashing for not being around here in the past couple of weeks. I can't blame you for being a little disappointed. But, I can honestly say there has been a lot going on and I have some things to share!
Oh, where do I start. Perhaps I should save the best for last. :-D Or, maybe I should just spit it out already because I can't help myself. Well, alright, since you twisted my arm! Great news again folks! My lucky rabbit's foot paid off for me again and I managed to get another one of my dolls published in Doll Crafter and Costuming magazine's April 2010 issue! I know, it's not the front cover, but boy am I excited just to make it into the pages of the magazine. Of course, I'm closer to the back of the magazine in the "Gallery" section, but one day, I just might hit the front cover. :-D In the meantime, I'm happy to sit at the back of the magazine! I'll take whatever bit of happiness comes my way these days. :-) In case the editors of Doll Crafter happen across my blog, I just want to give you a very big Thank You for considering my doll for you publication. It is truly a HUGE honor for me to be selected to show my doll in your wonderful magazine. In case you are not able to get a copy of the magazine from your news stand, you can purchase it directly from them at www.dollccmag.com. The wonderful little doll that made it into the magazine was my Kiele, a spring fairy, who now lives happily in Texas with her new owner, Bonnie. A very wonderful lady I might add. In case you don't remember Kiele, here is her picture: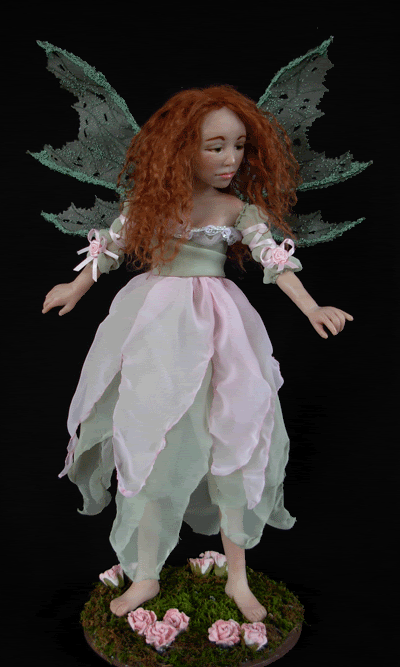 Now, that I have that off of my chest! On to more exciting news. As mentioned in the blog title, I did in fact go to the Idex Orlando 2010 show at the end of January. The show was not as big as it has been in the 2 previous years that I have gone, but, it was still a pretty good size show. There were a ton of booths ranging from baby dolls, art dolls, ball-jointed dolls, and teddy bears. Your big names were there like the Ashton Drake galleries, Marie Osmond with her line of dolls, Tonner Dolls, and a few others; I can't remember all the big names. There were some new comers as well as the old favorites. Forgive me for not thinking about writing the names down of all the artist I took pictures of , but I did ask for permission before snapping the photos.
I wanted to share as much with you as I possibly could. For those of you that are familiar with Jack Johnston's artdoll guild, they had a considerable layout this year too. I was lucky enough to get a couple of pictures of Jen Printy (who has had a nice feature article running in Doll Crafter and Costuming) and Sherri Williams and their beautiful baby dolls; who were both displayed with the artdoll guild that Jack promotes. I also met Gabriella DeLawey who was showing at the artdoll guild booth as well. Ankie Daanan also was there as a returning doll artist as well as Joe McPhale (who also currently has a nice BJD section in Doll Crafter and Costuming magazine as well), along with Elizabeth Dye. Miss Mollie O was there with her beautiful dolls, Xenis, Vania Cruz-Perez and hmmm, Friederacry (I don't think I'm spelling that right) but I love her work. Tons and tons of others. So many I can't remember them all.
At any rate, I would love to post the slide show of the event, but for some reason it is not letting me do that. So, as soon as I can figure out how to get it on here, I will edit the post and add it in for all of you to see it.
Now, finally, I need to discuss the last WIP I showed you. Well, you remember the Queen of Hearts from Alice in Wonderland? Her famous quote, "Off with her head!" Yes, you guessed it, that is EXACTLY what happened to the little fairy! I can't explain it, but all I can tell you is that her head just did NOT like her body. Of course, I could kick myself now when I go back and look at the pictures of it because it was coming along just fine really. But, for whatever the reason, I was not happy with the body and so, it just had to go. *sigh* That happens sometime, you think you have it all laid out in a nice neat little plan, only to discover that once you get started out on your journey, you take a different path than what the map dictates. But, never fear. That cute little head will still make it's appearance. :-D I have since began on a new fairy using the same little face. This time, she will be standing, that is all I know at this point. She is about 1/2 way finished being sculpted. I confess, I should have taken WIPs of her by now, but I have not had the opportunity to do so just yet. Perhaps tomorrow I will get some pics of her; we will see.
I am also trying my hand at making a ball-jointed doll. This will be very slow process since I will have to figure it out as I go along. A few of my dear friends from ODA are also working on BJD's at the moment, so I figured I should tagalong with them and give them some company. They do not know I have started on one just yet. hehe But, truthfully, all I have is the head and an upper torso. I have a feeling that those will be the easiest parts of the doll. LOL The rest will be where the complication comes from. I will take pics of the progess for that one as well. I don't know if the first BJD I make will be for sale once it is completed, but, depending on how the process goes, and how well I do, perhaps there will be more to follow in the future. At the moment, I am using polymer clay to create it, but the next time around, I might try my hand at paperclay just to swap it up a little. So, we'll see how it goes!
Finally, the last reason I have been away for the past couple of weeks is because I have been trying to find sponsors and/or donations for my son's high school baseball team. I have only managed to raise $150.00 so far and he is supposed to raise over $300. *sigh* It is amazing how hard it is to find sponsors/donations at a time when the economy is so down. It is nearly discouraging. I have been considering placing one of my dolls on Ebay to raise as much money as I can for the team. What do you think? Do you think it would be a good way to raise money? If anyone has any ideas on it, let me know. If anyone is interested in checking out the baseball teams website, you can see it here: www.eustisbaseball.com My boy is in the top picture and is the 4th body starting from the left in the back row. He is a huge kid! I'm very proud of him. He is junior on the varsity baseball team. Generally he is a utility player, but this year it seems he is a 1st baseman according to the roster. At any rate, wish me luck on the donations as the team needs all they can get!
Well, now that I have bored your socks completely off of your cold feet, it's time for me to go and finish up the dinner.
Hugs to all and take care,
Lori