After spending this past weekend getting caught up on some much needed yard work, I finally had the opportunity to take some pictures to show the progress of my labors in the studio.
It is not entirely uncommon for me to have a few projects going at the same time. Sometime, when I become lost with the direction I want to go in with a project, I'll put it aside for a while until it starts to speak to me again. It is much the case for the current mushroom fairy I showed you not too long ago. I had originally thought that she would sit on top of a mushroom, but for whatever the reason, that was not to be the case. So, I had to sit her aside until she and I come to an agreement on the direction that we wanted to travel in. I am much happier with her now in her new pose. I think you will agree with me. Alas, I am notorious for naked fairy folk running amuck in my studio. But, for the meantime, they will have to run around in their birthday suits until I figure out what they want to wear. hehe
At any rate, our mushroom fairy has now become a strolling fairy.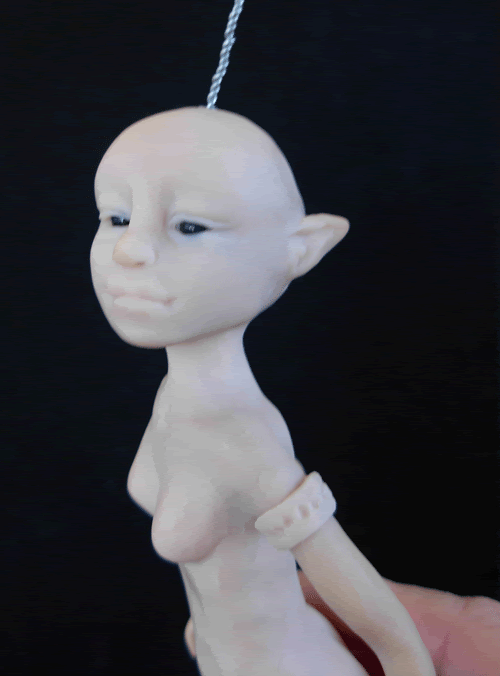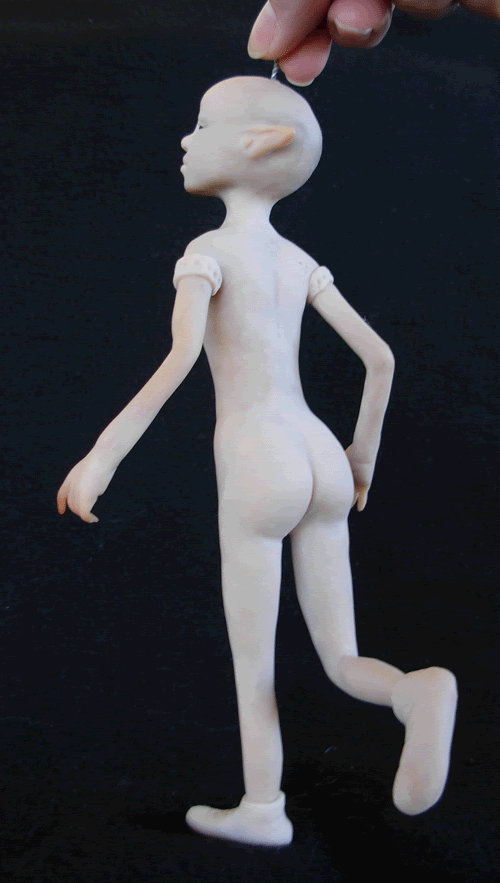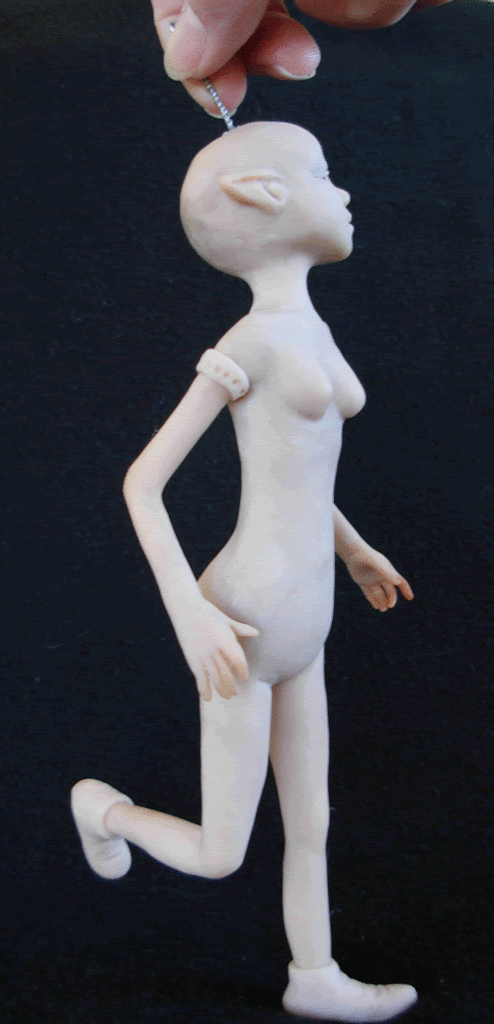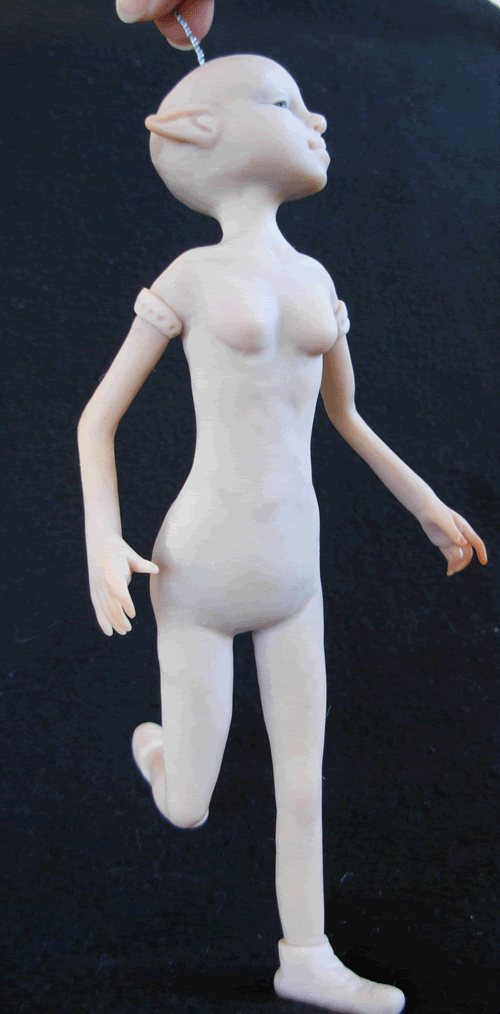 The strolling fairy is not the only fairy that is inhabiting my studio at the moment. While little miss no name is waiting around for her wardrobe to be finished, this happy little fella seemed to creep out of the woodwork too. Again, I seem to attract naked fairy folk, so bare with me for a bit. (no pun intended there!) This little guys name is Hobble. He sports a wink and a little plump belly! I do not want to divulge too much at this time, but I think as time goes on, you will understand. I wanted this little fella to have some character with a bit of comedy. We shall see if he turns out the way I imagined him.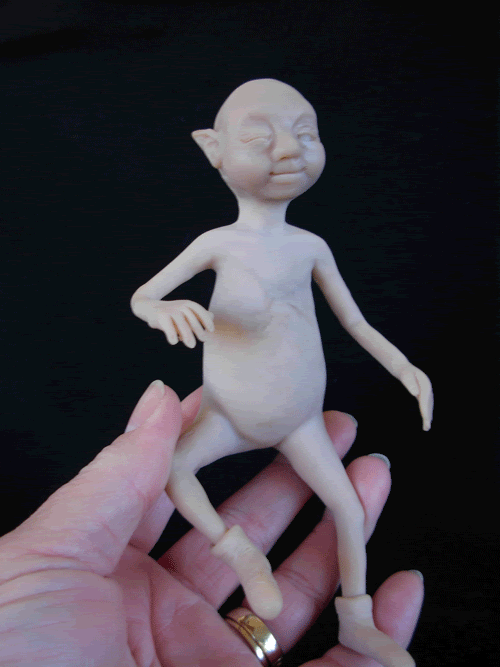 Last but not least is the ball-jointed doll (BJD) attempt. This will be a long drawn out process I think since I am going at it blindly so to speak. Since I only have picture references and do not own a BJD for myself, it will be interesting to see how this one comes about in the end. I am not sure if this doll will be available once I am finished with it. It might end up being a prototype for future BJD projects. At any rate, it is something to do in my spare time just for fun if nothing else. If it doesn't work out, then it just might end up being a doll constructed much like a marionette with out the strings. haha Anyway, here is what I have to date. So far, it's only the head and upper and lower torso parts. I'm not completely happy with the lower torso and I'm not sure if I will keep it or not. The intent is that on the next part it will have a large ball joint for the center stomach piece. If that does not work according to plan, then I will recreate the lower torso piece. If I do that, then I will change the design construction to being only a single lower torso piece that will also include the stomach area. So, in other words, instead of the torso of the body consisting of 3 pieces, it will only be made of 2 pieces. But, for the time being, we are going to try to create this with 3 pieces for the torso. So, without further adieu, here is the progress on the BJD so far: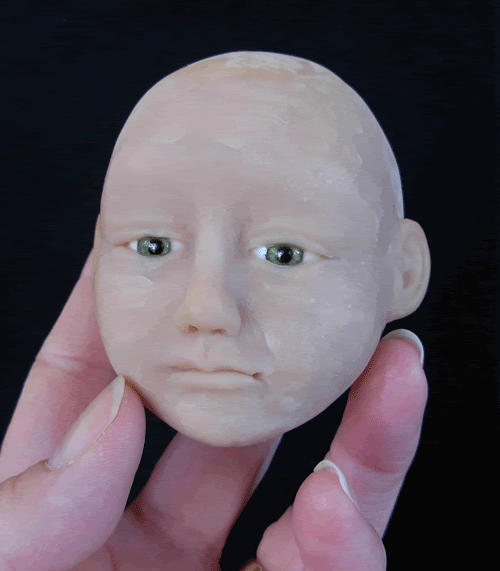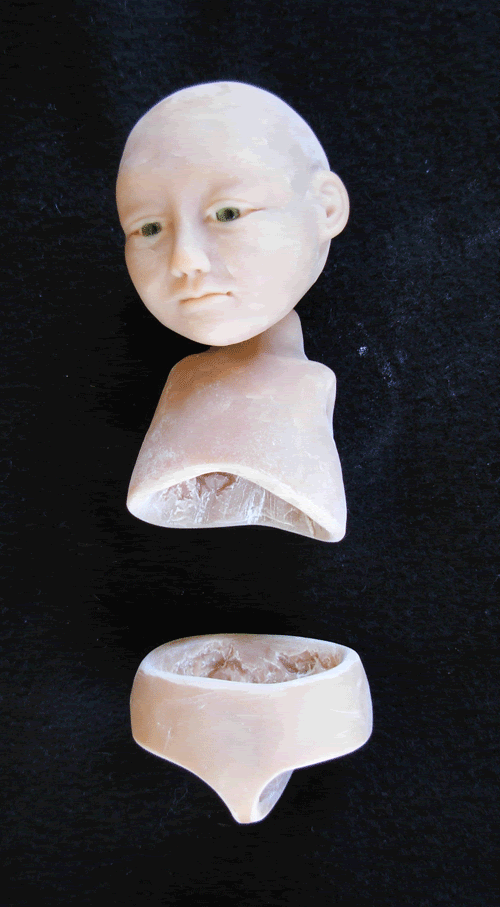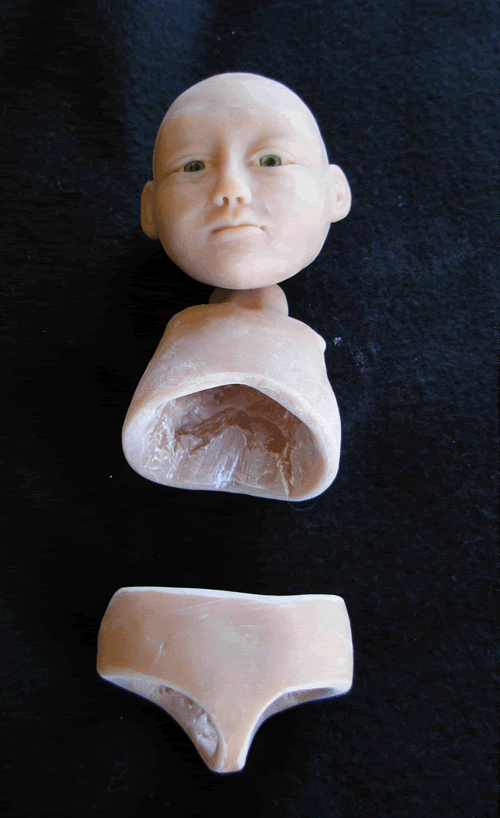 So, there ya have it folks. It is better than the twig that I thought would end up here about a month ago. Definitely it is a step in the right direction. I would love to hear any feedback on the 3 current projects. Any ideas, comments or criticisms are always welcome. I have one more doll idea that is itching to manifest itself from the world of fae that I just might have to oblige before any costuming gets under way. We will have to see how things look on the other side of the fairy threshold; you never know, they might want to stay put for a little while longer before stepping into our world.
Also, my son has some high school baseball games this week that might slow down the progress a bit. We will just have to wait and see how things go over the course of the next week as to how much I can get accomplished.
Anyway, I hope all of you have a wonderful and relaxing evening. Stay warm and stay tuned for more details soon!
Hugs to all,
Lori