Yes, yes, it has taken a bit of time, but I have FINALLY finished with her. She has actually been finished for a few days, but I have not been able to get her pictures up. I have had to work long hours these last few days and by the time I have gotten home, it has been dark outside. That is how it is when you have to keep your day job. Perhaps one day, my hobby will support me, until then, we will have to be patient and seize the creative moments when they come.
At any rate, this is the flower fairy I have been talking about. The flowers I used reminded me of thistle flower because of the brush like appearance, and so, this is how her name was derived. "Cirsium" is the scientific name of the flower variety. I'm not entirely happy with her wings, and I might yet change them after I look at her for a while. But, for the most part, I wanted to put up her pictures so you could enjoy her for a while.
I do hope you like her!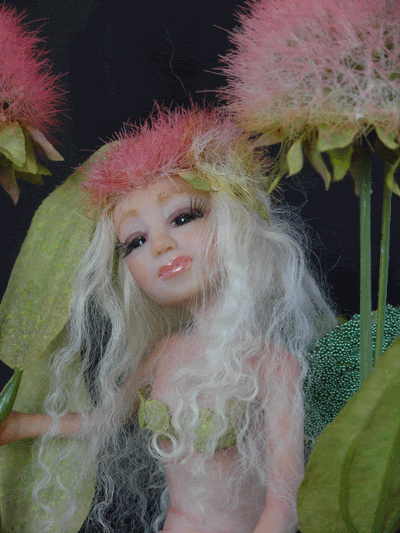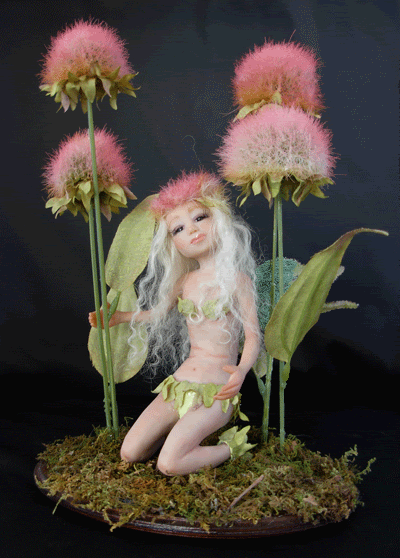 Just a reminder for all that might be interested. Hobble's auction ends on Easter Sunday. So, if you were interested in Hobble coming to live with you, get your bids in on him so he doesn't run away from you at the last minute.
Also, I have started a new fairy. She will be a woodland sprite. My intentions is to have her "blend" with her environment. I need to get pictures of her head and put them up here for you to get a sneak peek at her. If only there were more hours in the day. *sigh*
Anyway, I hope you enjoy Cirsium as much as I have enjoyed creating her. I will post WIPS of the new sprite soon. So stay tuned!