I trust that everyone had a lovely Easter and hopefully took time to remember why we have such a lovely holiday. Man-kind is truly blessed in more ways than we can ever know.
With that said, and the lovely day now behind us, it's back to work as usual. I spent my weekend creating and trying to play catch up after working what I consider an un-Godly amount of hours at the vets office this past week. Although, I'll not complain when I get the paycheck, it sure puts me behind on the end of creating.
At any rate, the pics I have for you today are just another step in the process for this project. Our little woodsprite is in her very early stages of devolopment. While I was working on her, I decided it best to stop where I was at and work on the prop for her display. My feeling is that she will be somewhat dependant upon the prop and it was necessary at this time to create it so I will have the prop for the correct placement of our woodsprite.
The prop is to be a tree. You can see that at this point it is not painted yet, but it has been baked. I still have another detail or two to add before I can get on with the painting of the tree. But, as you can see, my intentions is to make it an old piece of wood with vines streaming in various places down the tree form. The tree prop measures roughly 11" tall and is about 3-4" thick I would guesstimate. I'm not sure if you can see the detail work from the pics or not, but I was hoping to achieve the feel of bark and scattered muchrooms along the tree too. I am sure the details will be more apparent once it is painted.
Anyway here are the pics of her in her VERY early stages of development. I am still not quite sure on the positioning of her arms and legs, etc. That will come once I finish up with the detail work on the tree.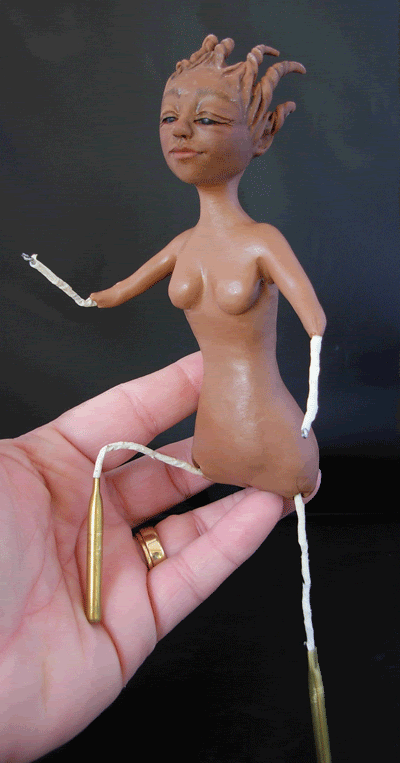 I noticed after I took these pics that she has a few specs of debris that need to be removed. The joy of working in clay. *sigh*
Now for the tree prop: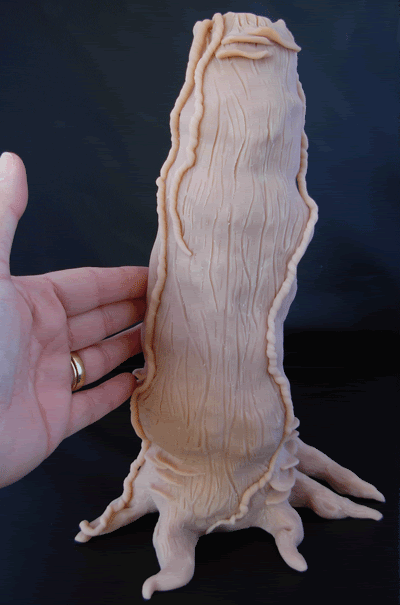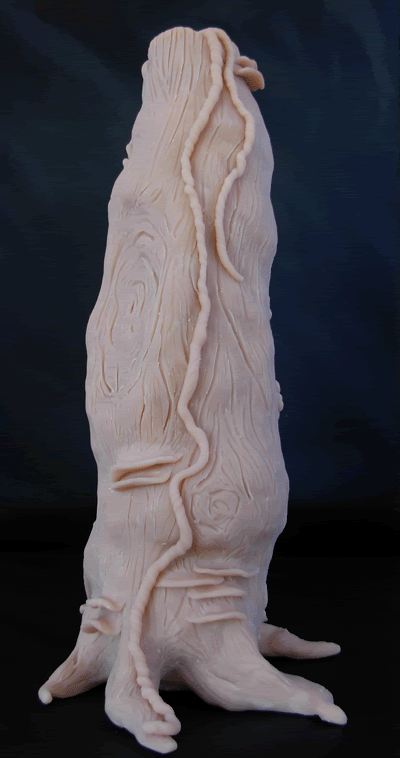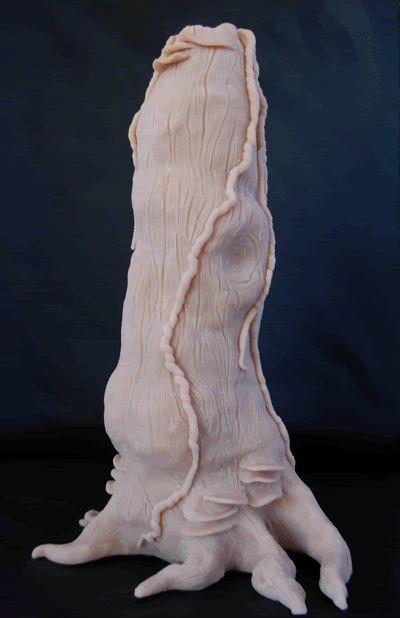 Well, that is all that I have for the moment. Hopefully, in a few days I'll have some more updates. I go back to work tomorrow so that will slow me down a bit. Darn, that 4 letter word we call work always seems to get in the way of my creativity!
Enjoy the updates and I'll see you soon!
Hugs to all,
Lori