As we travel through this journey we call life, the roads we take will lead us to meet a countless number of souls in our time. There are those that are casual acquaintances, and then there are those that bond close kinships either through love or via friendship. Some are more remarkable than others, some gently linger in our minds and hearts for some time to come, then there are those that continue to give and bless long after their time here on earth has finished.
I believe that Hannie was all of these things and more; one of those gentle souls that will continue to bless many people even though her time on earth has ended. For those that do not know of Hannie Sarris, who past away this past Sunday, she was indeed a Master Sculptor, who many artist, including myself, aspired to learn from and be more like. Although I never had the opportunity to meet Hannie in person, through the stories that are shared amongst mutual friends, I can tell you she was a rare jewel with a wonderful kind heart who was always willing to share her knowledge with the rest of the artist community and those that wanted to learn. If more people could be like her in mind and spirit, the world would be a little bit better.
I feel I am blessed to own just a small piece of Hannie in my collection of books on doll making. A beautiful book that she created and that was signed by her. Long before this day arrived it has been one of my most treasured books in my collection of artistic knowledge on doll making. To any new learners out there seeking a wonderful instructional book, I would highly recommend this book. It is titled "Fairy Fantasy" by Hannie Sarris-Hulstein. I realize that the book is completely sold out, but there might still be some copies lingering about some place.
I wanted to share just a small sample of her work so you could understand just how wonderful her work truly was. Unfortunately, I had such a hard time selecting something, as it is all beautiful. So finally, I selected this picture which kind of sums up the feeling in the artdoll sculpting community. It is titled "Sense of Sadness" by Hannie Sarris. It is a bust made of Prosculpt light clay. It is one of my favorite pieces by her. I think you will find it appropriate.
"Sense of Sadness" By Hannie Sarris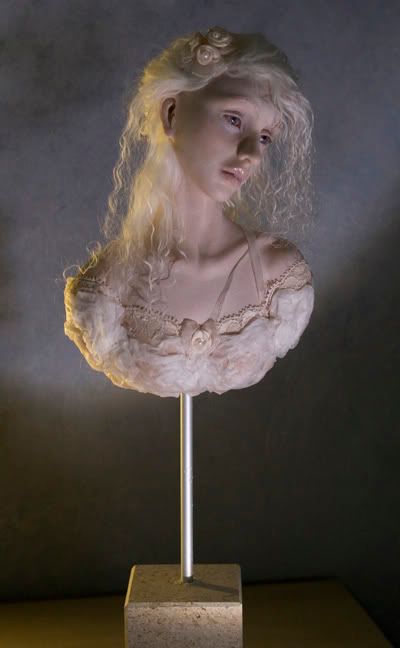 In short, Hannie was indeed a master sculptor and a mentor to all of the doll making community in some way or another. She now belongs to the artistic muses that will guide artists on their creative journeys as they travel their own roads. She will forever be a star shining brightly in the heavens showing us all the way.
If you would like to see more of Hannie's work, please visit her website and see what a true master in sculpting that she really was. The doll making community will feel the loss of her bright soul for a long time to come.
http://www.hanniesarris.nl/page.php?page=home&lang=en
God speed on your journey, Hannie. You will certainly be missed here in this world.