Here I am, once again, making apologies for my blogging absence. *sigh* Apparently, sometimes life gets in the way of even the best laid out plans.
As many fellow artisans know, trying to balance life with the every day mundane and the creative side can become pretty hairy every now and again. These past few weeks have been no exception to say the least.
My youngest son, who is a senior in high school, recently purchased a car. So, guess who gets to do all the running around for the tags, title and registration, insurance and making repairs to be safe for driving. That is right...good ole mom. haha Yes, I did the mom duty. But, no more mom's taxi service...so there is a plus side to everything. haha Of course, you tie in a few high school baseball games during the week and that is enough to run any one ragged in my opinion.
With all of that going on, I have been trying to complete a neat witch project for the IADR contest this month. Unfortunately, I have had multiple problems. Non with the doll mind you, just stupid things that were a great idea at first that later turn out to be a pain in the rear in the end. (no pun intended there either! haha) I'll elaborate more on that project when I post her up for the blog world to see. I'm hoping to have her completed by this weekend. I'm hoping she will indeed get to take flight on Halloween Night and be ready in time for the contest. :-)
In the mean time, while that project was in the midst of going array, I decided to throw in another quick piece into the mix. You see, this past weekend was the ever popular Mount Dora Craft Fesitival. It's one of the major events that takes place here in this little small town area. Crafters and Artisans from all over the place come to show their wares. And, when you have big shows, you also have big crowds! A few friends of mine that braved the crowds here said it was literally elbow to elbow. My own son described it like rush-hour in New York City. Which, to put it lightly, is unheard of in this one-horse town. :-D At any rate, I didn't show in a booth outside in the main festival. I'm still a small time artist and my purse strings can not afford such extravagant affairs, so I opted to show at the 1st Presbytarian church for this past Saturday. Unfortunately, I was only able to show for one day in their church bazaar that coincided with the craft show event, but, I was also indoor and in the wonderful air conditioning. HAHAAHA Sometimes, you have to take the bad with the good. I had a lot less foot traffic, but I accomplished much what I had expected to. I can assure you this much, I worked just as hard setting up this table for the one day I was there as did the artisans in the tents outside who were there for the 2 days.
Here are a few pics of my table display for the event.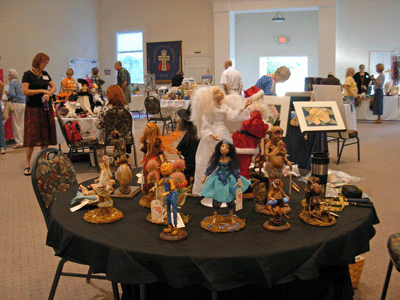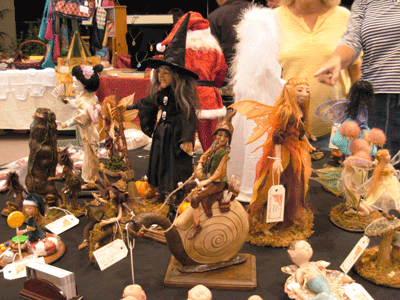 Anyway, back to the piece I worked up specifically for the show. (I tend to get side-tracked at times) I wanted something perfect for Halloween and something that was "stress free" since the witch was really being the devil for me and it wasn't in the tarot cards for her to be finished in time for the show. So, I opted out for something fun and nothing like what I had created before, and in doing so, I ended up with the Bumpkin Pumpkin. I really enjoyed making this fella. He's a little bit of country mixed in with the flair of Halloween. Thus, he is "Bumpkin Pumpkin"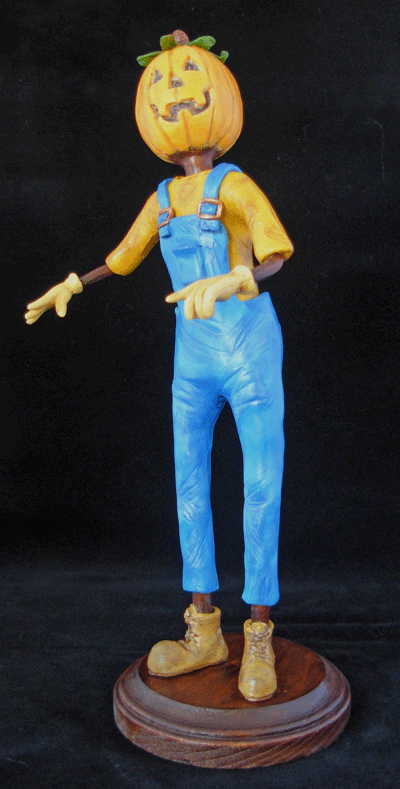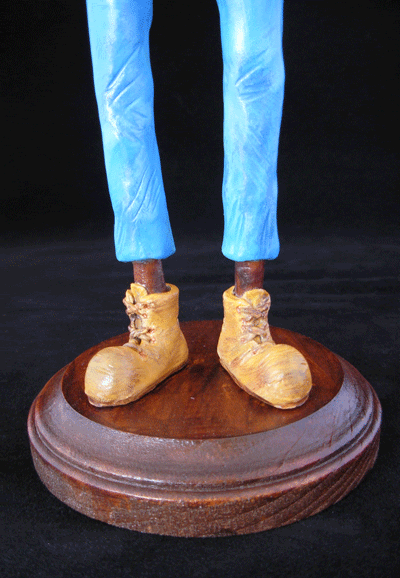 Unfortunately, the first couple of pics were not the best for some reason. But, you all know how it is when you become cramped for time. You simply take what you can get. :-D Bumpkin Pumpkin is available for purchase at my website if anyone should be interested in this cute fella.
In the meantime, I have a pesky witch that needs to be worked on if I want to have her completed by this weekend in time for the IADR contest.
I hope you have enjoyed the pictures!
Hugs to all,
Lori