Nothing fancy to really write about. You've guessed it, it is definately all about the boots at the moment. I've finished painting the boots and am now waiting for the matte acrylic sealer to dry on them. So, since they were outside, thought I'd snap a progress pic of them for ya.
Once they are dry, I'll begin to assemble them all together. I'm working on the armature now for the 32" santa. This is proving to be a bigger task than I thought because I fear my yellow coated wire is not strong enough. So, aside from using the dowel rods for "bone" support, I don't think I'm gonna be able to pose him the way I wanted to in the beginning. You know how it is, the way you imagine it and how it works are 2 different things unfortunately. lol
Anyway, here are the next WIP pics. Again, they are nothing special...just the boots.
32" santa boots and 18" santa boots:
And a closer view of the larger boots: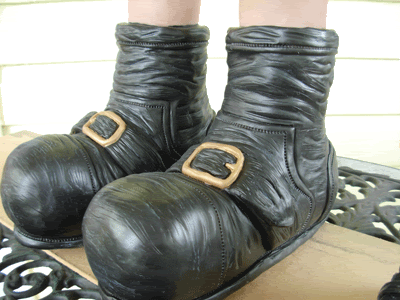 Hopefully, the next pictures will show a completely assembled 32" santa and the next 18" santa in all their naked glory! lol Got to love a naked santa.
Until the next post!
Hugs to all,
Lori