For those of you who were anxiously awaiting news of my mall craft festival adventure, here is the update you have long been waiting for.
The 2 day event was a little slow as I would have expected for this time of year. I think the event would have faired better if the festival had taken place more towards the end of October or the beginning of November. The nice part about it was that it was indoor and in the air conditioning. Here in Florida, that is VERY important. Over all, it was an excellent opportunity to show my dolls, especially since it was the first time I had showed my dolls in a craft festival or show setting. It also helped me to know where I stood in opinions to potential customers and how I was accepted by other crafters as well. Not only this, but, it was also nice to see how I handled putting up a small display, and what I can change in the future to make it more efficient if I should decide to participate in another festival function. In the end, I think I did very well in all aspects and am quite pleased with my results. It was nice to meet potential customers, other artisans, receive possible leads on other show type events, and get the feedback that I have been needing for my work.
So, I guess you are all probably wondering how I faired with the 40" santa. The poor fella, he's been through an awful lot in the past week, but he did indeed make the trip to the mall for the show. I managed to find some nice faux leather amongst my stash of goodies, and made him some very nice make-shift mittens. Despite his tragic accident, he came out rather dapper I would say. You can take a peek for yourself here: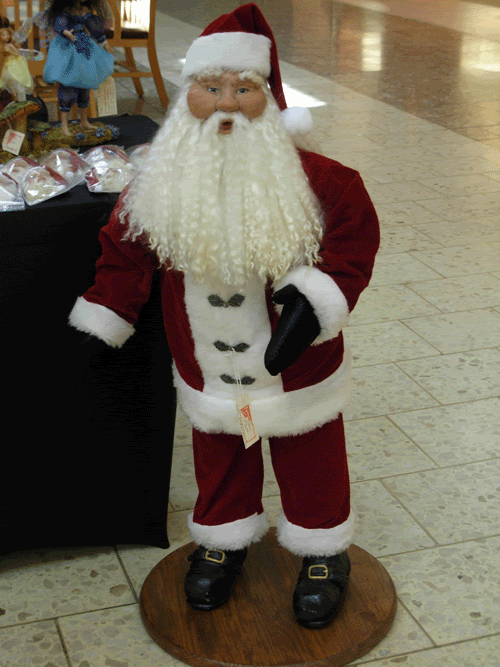 Now, I must tell you about what ever happened to his wonderful hands that I had created for him. Just prior to the show, I decided to piece back together his fingers. I must admit, they came out looking pretty good and in some cases, unless I had pointed out the damaged areas, you would never know the devastation that they had been victim too. I took the hands with me and placed them up on the table as part of the display, just for a conversation piece. I figured, since Halloween is right around the corner, it might be fun to have a couple of hands laying out there next to my business cards. :-)~ (wicked sense of humor...I know lol) Well, Saturday, I had already been at the mall for HOURS. I arrived there just before 9:00 a.m. and it was now just past 7:00 p.m. and by this time I was literally dragging and praying that the last couple of hours would go by quickly. ( I had to be there until 9:00 p.m.) Just about that time, a fella and his wife came waltzing by my table. The gentleman happened to glance down at my table as he was passing by and spotted the pair of hands laying there. He stopped dead in his tracks and snatched up the hands to have a closer inspection. You would have thought that Michaelangelo or Leonardo DaVinci had created them the way he spoke about them. He was soooo excited about these hands, that he had to show other people passing by my table just how wonderful they were. Then, the ultimate question landed down on my lap. He wanted to buy one of the hands. Of course, I had not planned to sell them so I was dumbfounded he even asked me. I think my jaw must have hit the floor and I am sure I must have stuttered when he asked me how much they were. Well, I finally decided to let the gentleman buy the one hand that he was so amazed with, and he in turn, made his wife stick it in her purse and went sauntering off through the mall like a kid on Christmas morning who just opened up the biggest treasure under the tree. I was happy to be able to make up for my losses to buy more clay to redo the hands for the santa, and he was happy that he had found a wonderful treasure. So, we were both winners. All I can say, is if the gentleman who bought that hand ever reads this blog, to him I want to say thank you. You have no idea what I went through to get those hands there to that show event. Just your act of kindness and true spirit of sincerety in the quality of my work gave me a new found joy and appreciation for what it is that I am capable of creating with my hands. Thank you from the bottom of my heart for breathing a new wind into my fallen sails.
And now, just a few pictures of my entire display. I sure hope you folks are not bored out of your noggins yet. lol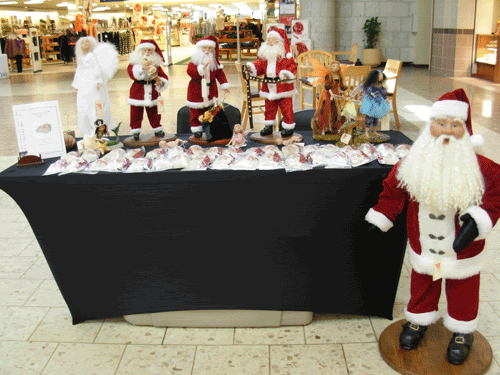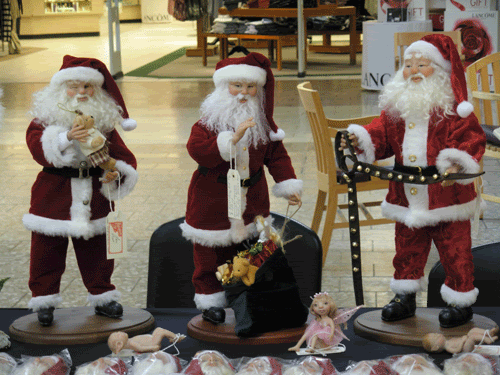 Also, I never did post a picture of any of the finished ornaments. So, I think I'll take the time to do that now.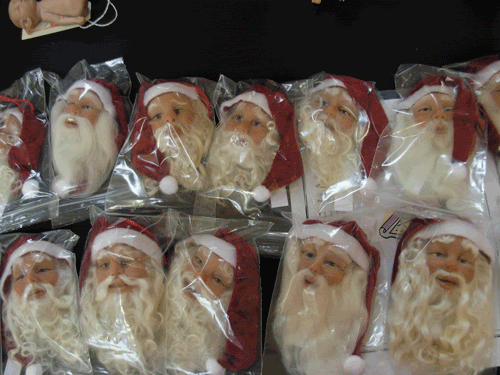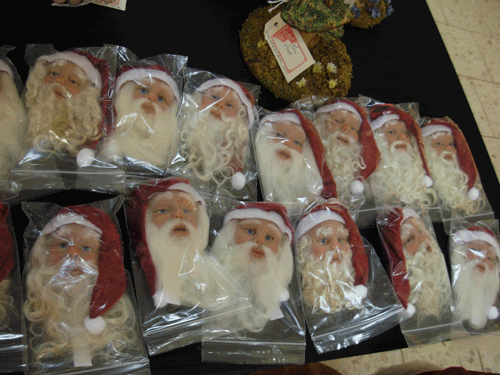 In closing of this blog, I also thought I'd share with you the project I began to work on at the mall show. I had thought I would begin a new pair of hands, but I never had the opportunity to create the armature prior to the event. So, instead, I did have some materials with me to begin working on a new fairy. This one I am going to do something a little different than what I normally do. She will fall into the spirit of Halloween and be a dark fairy. Since it is something I have never done before, it should be interesting to see what my dark side will bring forth. After working on jolly santas, it will be nice to have a change of pace. Keep in mind, she is in the very early stages of development and has A LOT of work yet needed on her.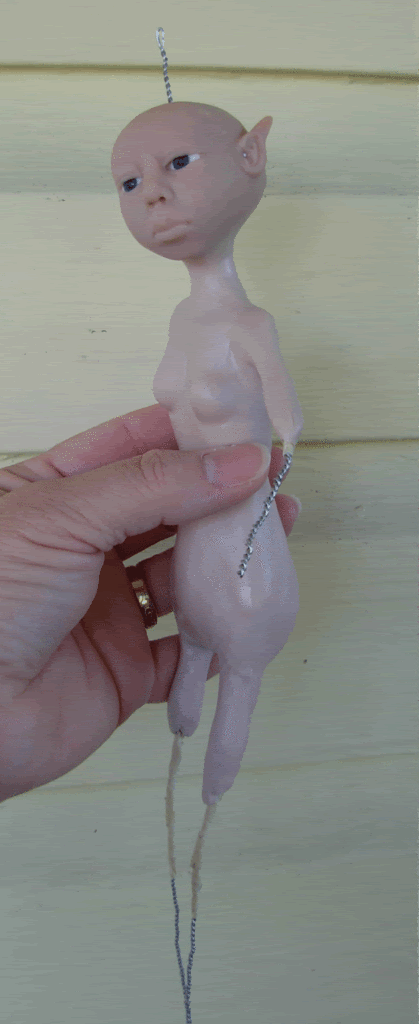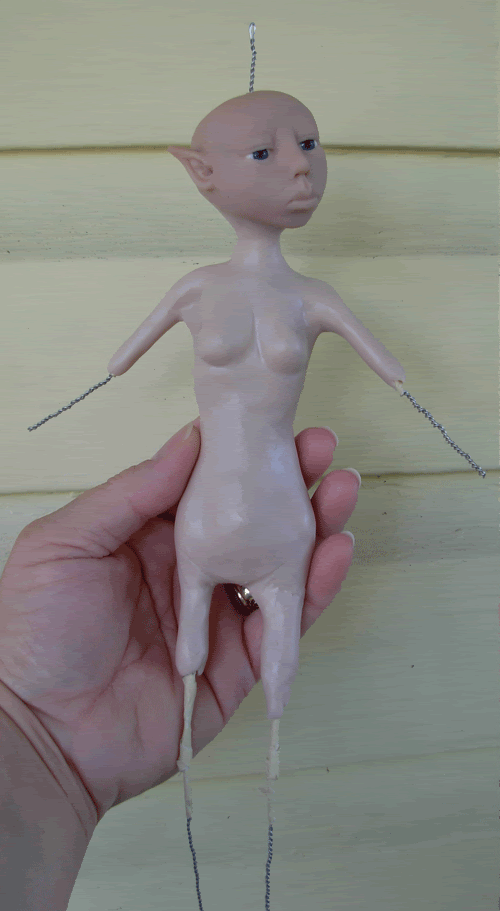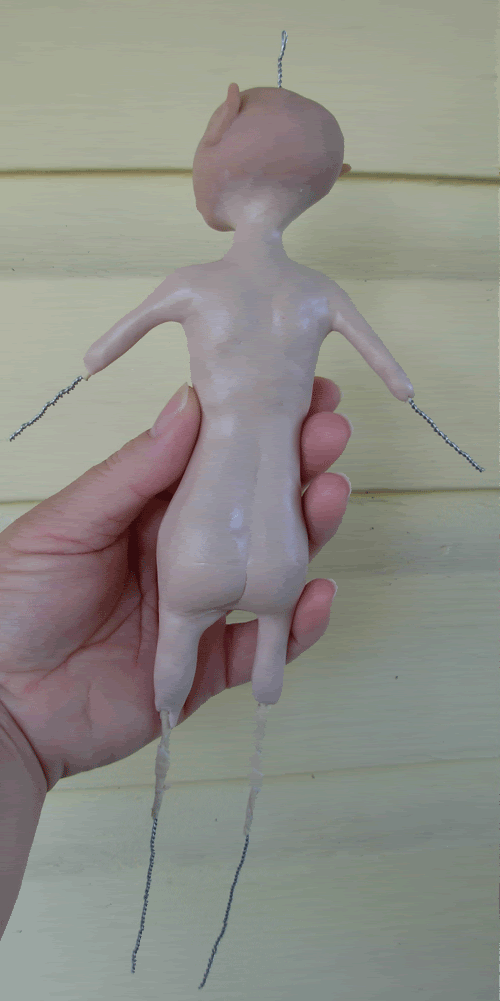 Anyway, I hope you enjoy the pictures from the mall event and the new ones of my new current WIP. Please feel free to contact me at any time with comments or interest in purchasing my work. It is always a pleasure to hear from you.
Hugs,
Lori