Yes, it is time to get back to work again! And you are all invited to come and see what is going on inside the studio.
This time around on the dollmaker's bench is a 10" Santa Claus. Atleast, I'm hoping my measurements are right! This special fella has been commissioned by a lovely family in Mexico. Their 2 absolutely adorable children have been patiently waiting for me to finish up the spring fairy so that I could begin on this wonderful character to kick off their holiday festivities. In the meantime, their mom, Gaby, has cleared out a special sitting spot inside of her curio cabinet and is now waiting for this handsome Santa.
With so many smiles riding on the line for this little guy, I sure hope I can keep them there and everyone happy in the end with the final doll. It was a request to make him a winking Santa. Let me tell you though, if you have ever tried to recreate a fascial feature that worked the first time around perfectly, you would think it should work the same the next time around, right? WRONG. I think I must have gone through 100's of faces before I finally settled on this face that I have finally ended up with. I had no idea how difficult it would prove to be. The first one came easy enough as a happy accident, so surely, the next one should have came along the same way. Even though it proved to be a lot harder than I initially thought it would be, I think I come out with a likeable Santa face in the end. You will have to let me know what you think of the progress so far. I would love to hear your feedback. Here are the pics of this Santa so you can critique him for me. Of course, I took the pics inside my house a bit ago, and as you know, I have the worlds crappiest lighting in my house! :( But, I think they are good enough to get a general idea as to what he looks like so far.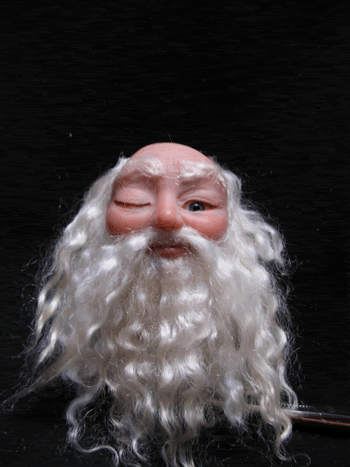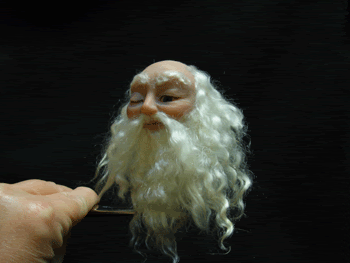 Well, now that he has had his head unveiled, I think I will leave you good folks to ponder the situation for a while. In the meantime, I'm gonna go work on some hands for this fella while I still have a few hours before heading off to bed.
Hugs to all,
Lori