Alright gang. While I am busy working on the WIPS, I thought I would add a little fun to the auction house and listed Noor for your bidding pleasure. She has a low start price so that more can join in on the fun. :-D Her auction ends on March 1, 2010 so get your bids in early. You will be surprised how quickly 7 days can go by. haha Believe me, I know! Her pictures really do not do her justice. Apparently, according to the hubby, he says I should not put them up there as a gif, that jpg would have been much better. OH well, live and learn I suppose. And to think, I went to graphic design school. hahahaha Must have been a joke. But, that was a long time ago. Hard to remember a lot of that stuff if you don't do it everyday.
Anyway, here is her auction link to make it easy for you to find her.
(I can't seem to get the link to work. So, I guess you will have to copy and paste it into the browser *sigh*)
http://cgi.ebay.com/ws/eBayISAPI.dll?ViewItem&item=120534688645&ssPageName=STRK:MESELX:IT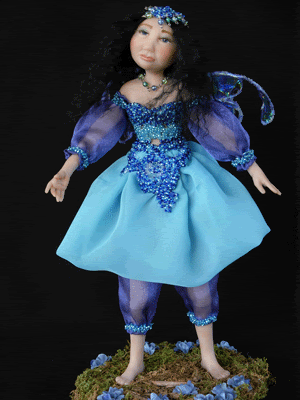 Since the high school baseball games have started, my doll making time is cut a little short in a way. I have all of these naked fairy folk running amuck! I really need to sit and get these guys finished up. I am sure they are tired of waiting on me. In the meantime, since I have been on the go to the ball parks, as you can imagine, I take my clay with me. Yep, you guessed it, I have yet another fairy in the works. This one is a little different than what I normally do. I don't have pictures of her at the moment, but all I can say is that she is leaning towards the avenue of blending with her environment! So far, she promises to be a lot of fun. I have not had the opportunity to work on her the past few days, but she is nearly completed in the sculpting stage. My apologies for not having a WIP of her. *sigh* This is the sort of thing that happens when you have to sculpt on the go to get things done. lol So, at any rate, I'll have 3 new fairies to spring forward here in the next month. At the rate I'm going, I might have an army of naked fairy folk! HAHA My, what a sight that would be! Perhaps, if we are lucky, the little ball jointed doll might see some progress too.
Well, that is all I have for today. I have some chores I need to do around the house yet and a grocery trip to make too. yuck! Maybe I'll have some time to work on the new body later this evening. Unfortunately, I have to work an extra day this week, so that will take away some of my sculpting time this week. As well as 3 baseball games this week too. So, I might not have that much to show this week besides more naked fairy folk. haha
At any rate, enjoy the auction, and good luck to all the bidders!
Hugs,
Lori