Yes, it is true, I have a lot of pictures to share with you all. I know you are all extremely excited and jumping up and down clapping your hands like silly grade-schoolers. :-D It's alright, I promise I'll not tell a soul about it. (unless you really want me to haha) Since I have been a terrible hostess to this blog lately, I thought it was high time I made up for the lack of condiments and start throwing some eye candy out to ya once again.
Like I said a couple of days ago, things have been pretty hectic around here for me lately. Really, it's been a bunch of nothing, with a little of something thrown in here and there just to give some substance to the stuff that really matters all along. But, I finally made some time and cracked the whip on the WIPS. haha
The first thing I want to share with you is one of the lovely outdoor places that I go to some time to do some sculpting. It is about 10 minutes from my house and I really love this little spot. I call it my Tavares studio. hehe
Yes, the little town is called Tavares; it is a quaint little place really. It is so special that just a few weeks back it opened up a new seaplane marina! That was really a big event for this small town. In fact, it was so big that the city brought in 2 country music bands, Little Texas and Restless Heart, to play for the grand opening of the seaplane marina. I was fortunate enough to get some pretty awesome pictures of the 2 bands, an autograph and a picture with one of the band members from Restless Heart band! Albeit, I do not have any pictures uploaded from the event, but give me a bit and perhaps I can share some of those picturs for you in a few days.
At any rate, I really just wanted to show you a few pictures of "my spot" and my vantage points of where I sit and sculpt. I have a favorite little spot to sit at a pavillion. There is a gift shop nearby, some restaurants if I should feel the need for something special...and most important, the little girls room is right there at a stones throw away so all I have to do is duck around the corner. hehe
The pavillion I sit at: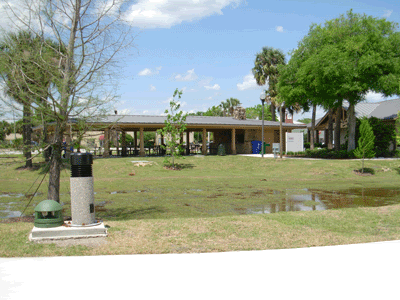 The view from the pavillion:
And some of the precious sites that go with the view: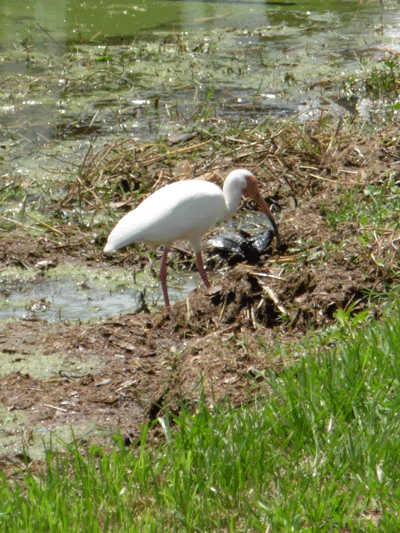 Of course, these are just a couple of the critters. I find that many squirrles and birds like to come and visit too. As well as the dogs that frequent the park while taking their owners for a stroll; there is a little doggie drinking fountain right there at the pavillion.
Maybe next time out, I will take some pictures of the next park that I like to go and sculpt at. That is in my home town of Eustis and is 5 minutes from my house. It is another beautiful location...though, it does not have a seaplane marina...it has a nice big bandshell for special outdoor concert type events. :-D
Anyway, time for the WIPS! Like I said the other day, once I began work on my wood sprite, she decided she needed to come into her own being. She was rather opinionated and decided she was not going to share the stage with any other wood sprite, she was just not going to have it. So, after much effort, we finally came to an agreement that we were both satisfied with. The agreement process meant that I had to create yet another tree form. *sigh* These pesky wood sprites...you wouldn't believe the demands they make of your time. So, Monday afternoon after I posted, the little wood sprite and me headed down to the Tavares studio and began work on sculpting her base. Since I needed to make a tree, I thought it would be good to be close to nature that afternoon. 4 hours later, we began the trek home with a finished sculpt of the tree base.
3 different views of the newly sculpted tree. Obviously it was not baked at this time.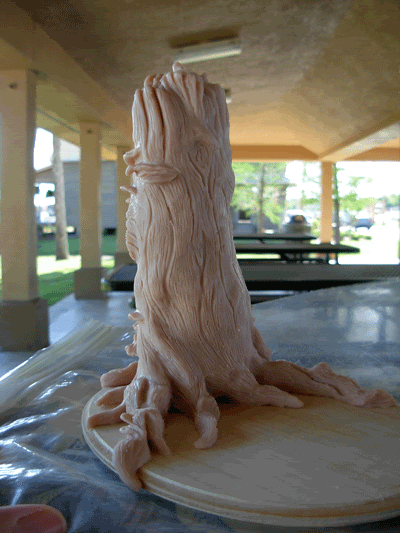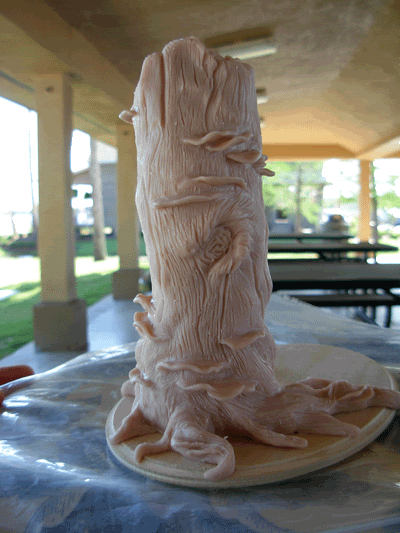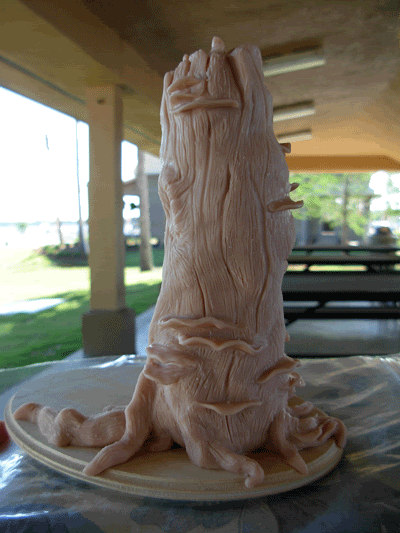 The little wood sprite was so pleased about having her own tree, she decided she needed to get a couple of pic of herself to celebrate the event!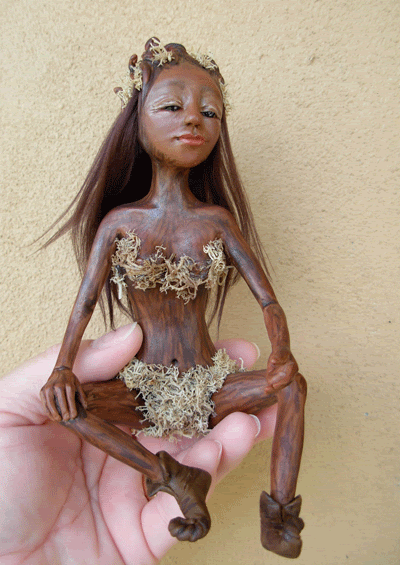 Since it was getting kind of late, and the domestic duties had to be done, I only had time to bake the tree on Monday. Yesterday, I come home after work and spent my entire evening painting the tree and preparing the base. I finally placed the final touches on it at the bewitching hour, and to tell you, I definitely felt like I had turned into a pumpkin by that time! The only thing I have yet to do to our little wood sprite is the matter of eyelashes. I HATE doing them. That is probably why I have not made it to that point just yet. haha Anyway, here she is finished...without her eyelashes to flutter at you. I do hope you all like her and have enjoyed all the pictures this time. I would love to hear what you think of her because she is really different than what I normally do. Even though she carries my style...she is still unique.
Enjoy!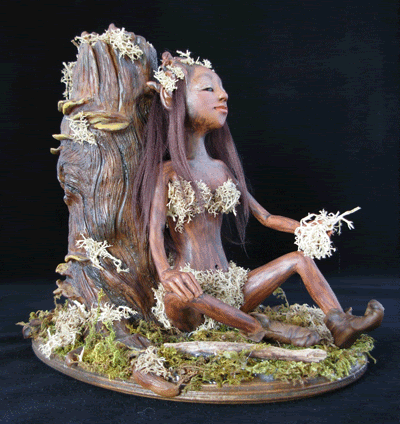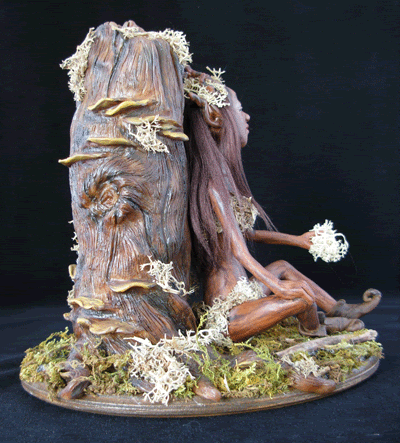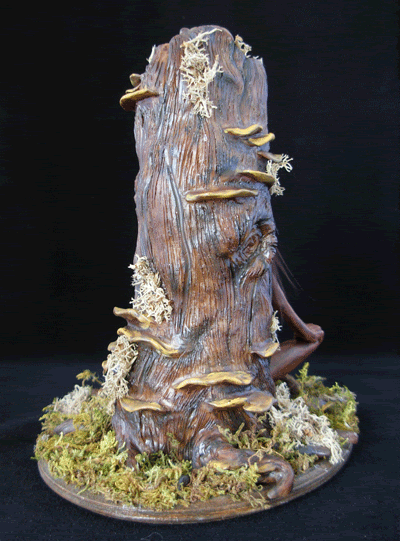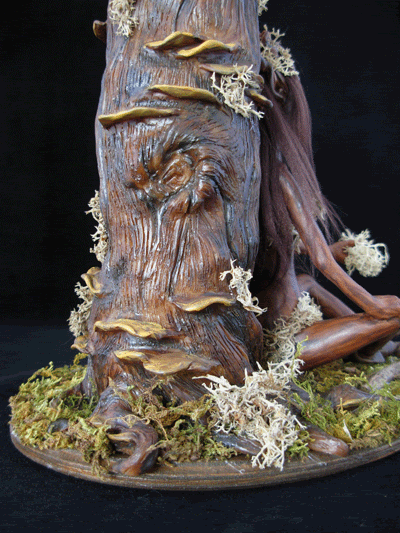 Details: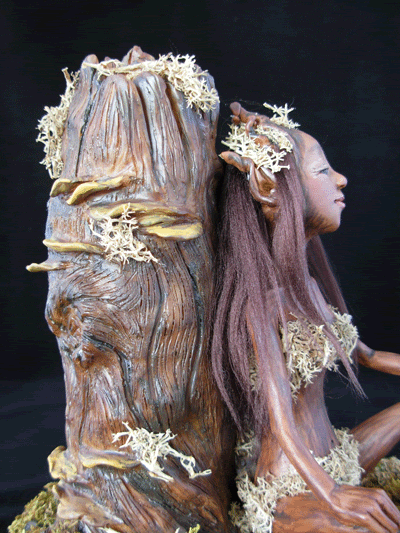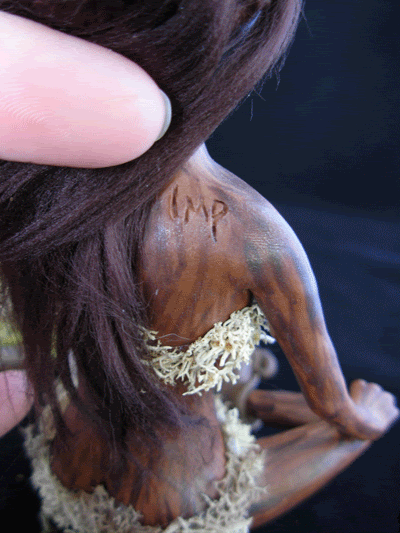 Now, the only thing left to do is submit her to the International Art Doll Registry and get her registration number. Those are only created on Mondays...so I have a few days to struggle with eyelashes before I have to have her submitted.
I hope you all have really enjoyed the creation of this doll. She was something unique and fun that I wanted to do and I very much enjoyed creating her. My next piece is the 2 wood sprites on the other tree form. Since it is sort of 1/2 way finished...hopefully it will not take as long. Friday, I plan on another day out to my outdoor studio if the weather permits. Perhaps I'll have some more local sights to share with you from the outing.
Take care all. I look forward to hearing from you.
Hugs,
Lori