Hello there Bloglandia! It's been a couple of weeks since I have visited this corner of the world, but, after taking a stroll with trolls, I needed to take a much needed bath. It is amazing how dirty one gets when visiting the dampness of marshy shores. I had to soak for nearly a week to get the top 2 layers of grime off my skin and out from under my nails!
So, now that I am all cleaned up shiny and new and wanted to drop by and share the latest news with you. First, I'll share my next WIP. As you have guessed by the title, it is the "Hide in Seek" theme. It is the 2nd piece to go in my series of woodland sprites. I am far from being finished with it, but I would say I am about 1/2 way through the sculpting stage. The tree form was initially meant to be a part of the first tree sprite, but it ended up being too big for her. So, now it is being used for this project. As you can see, I am reworking the lower tree root section of the tree. The original placement of the roots did work with the direction I wanted to go with the piece. My characters are meant to create a circular visual effect, going in a motion of around the tree. The standing one is seeking out the sitting one. And, the sitting one hears the other approaching the other side of the tree, so it tries to peer over it's shoulder around the tree base. Hopefully, I'll have more to show in a few days. I hope you enjoy what I have done so far.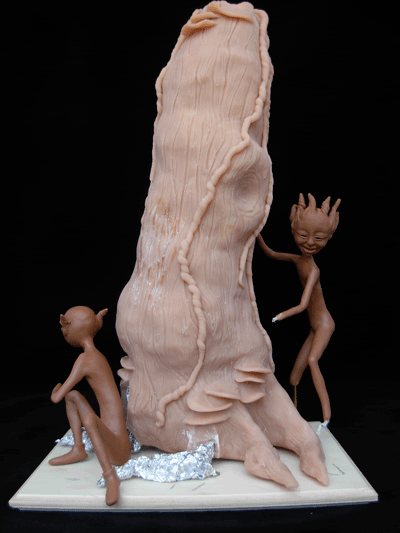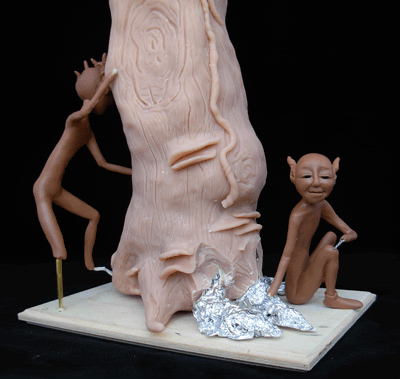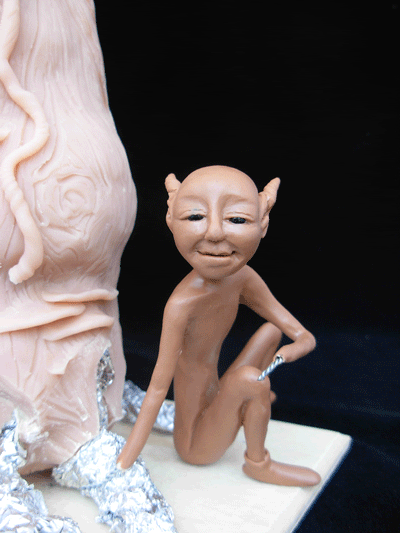 The next bit of news is that I have had another one of my dolls published in Doll Crafter and Costuming magazine in the Gallery section! I got my magazine last week and was VERY happy to open the page to the gallery section to find Cirsium sitting there in the pages. I can not tell you how happy it makes me to see one of my dolls in the magazine. That makes the 4th one since this past September! One day, maybe, just maybe, I'll make the cover. But, I tell ya what....I'm not gonna hold my breath. haha Still, it's so nice to dream though, isn't it? :-)
Here is a picture of her in case you don't remember her.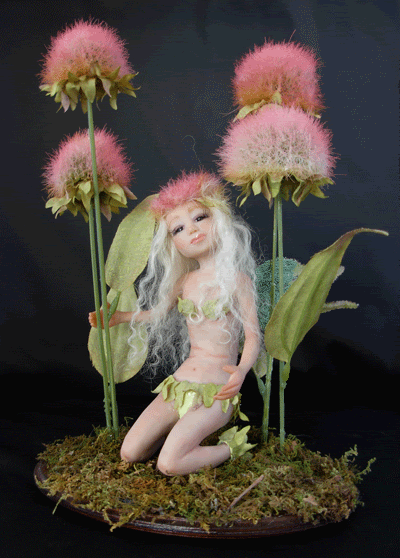 Now, for the final news for the day. Drum roll please........ A few weeks ago, I found out that I was one of the artist selected to show my dolls at the IDEX Orlando January 2011 show! I'll be showing about 3-4 dolls with the International Art Doll Registry group. Talk about a HUGE deal! Idex Orlando Doll show is one of the biggest doll shows here in the United States. I am so excited to be able to take part in such an awesome venue with such an awesome group of talented artist! Now, I'm not sure I'll be at the show site the entire weekend, but, I do plan on attending the show and taking in all the wares of the talented artist who are showing as well. It is always so nice to be able to meet all the friendly and talented artist and see their wonderful handywork. Perhaps, if you are in the neighborhood at the end of January, we'll have a chance to meet at IDEX. :-)
The only other thing I can tell you at the moment is that I am waiting on news about who the winner is for the ODA inner demon contest. Truthfully, I do not expect to win. :-) There are some EXCELLENT pieces in that contest that are not only fantastic craftsmanship, but also provoke the feelings through the imagery that is presented. Albeit, my troll was good, but, these others are far better. I didn't expect to win in the beginning at any rate. hehe I really wanted to accept the challenge of sculpting something different: wicked, mean and nasty. And, not to mention, do it by a deadline. :-D I accomplished what I set out to do, and was pleased with my results. That is what I wanted...and I got it. :-) Of course, I'm not gonna lie; I would LOVE to win the contest, but, I am not gonna lose sleep if I do not. hehe It was an interesting concept, and gave me the opportunity to make a wicked troll. :-) At any rate, it's just a matter of time that the winner will be announced. So, as soon as I know, I'll let all of you know out there in Bloglandia. And, with the artist permission, I'll see if the will let me post a pic of their inner demon.
Other than that, the course of the last couple of weeks has been interesting to say the least. My youngest son actually made it to his senior year of high school. Now, if I can survive the final year of his high school education......I'll be on cloud 9. The high school also has a brand new baseball coach and they have started up on a summer program. I'm super excited about this, although it is hot as a dutch oven outside at the moment. Speaking of graduating, one of my nephews graduated high school this year too. And, last but not least, my brother and sister-in-law have moved down from Tennessee this past weekend. So, lots of happenings as usual. But, I admit, I am glad to be busy.
So, now that Bloglandia has been caught up with my last few weeks of living, I'll let you mull over it for a while. But, I promise, I'll be back again!