Hello there Bloglandia Gang! I hope all has been well here in the land of blogging. My world has been extremely busy of late. Sometimes even the best laid plans often fall astray. That seems to be the story of my life. haha
We had a 4 week run of high school summer baseball where we were running to a game nearly every week night. Then, in the midst of all of that, my brother-in-law and his wife moved from Tennessee down the road from me. So, I have spent some time helping them to get to know the lay of the land in these dreadfully hot parts here in Florida. And, not to mention, my mother and father-in-law come from Tennessee too for a 2 week visit. Tie that in with work and every day run of the muck stuff, and you get whopping creative delays! Unfortunately, as you can see, it took me a lot longer than I had anticipated to finish the hide and seek critters. I hope you will find in in your hearts to forgive this poor ole creative soul. *puppy dog eyes* With so much happening, the creative pixie muse took a vacation on me. I really can't say that I blame her. But, now she is back and we quickly got back to work.
At any rate, I hope you like "Hide and Seek". I intend this to be my entry for the International Art Doll Registry's (IADR) August contest themed "Wild Fae". It will be my first contest entry with the group so wish me luck! And, without further adieu, here are the pics you have long been waiting for. Let me know what ya think? I would love to have feed back from all of you. There is something about this piece that really makes me smile. I have enjoyed making this one so much, that I might consider making some more of these little critters. Wonderful childhood memories; playing hide and go seek. Perhaps you have some of your own childhood memories of hide and seek too. :-)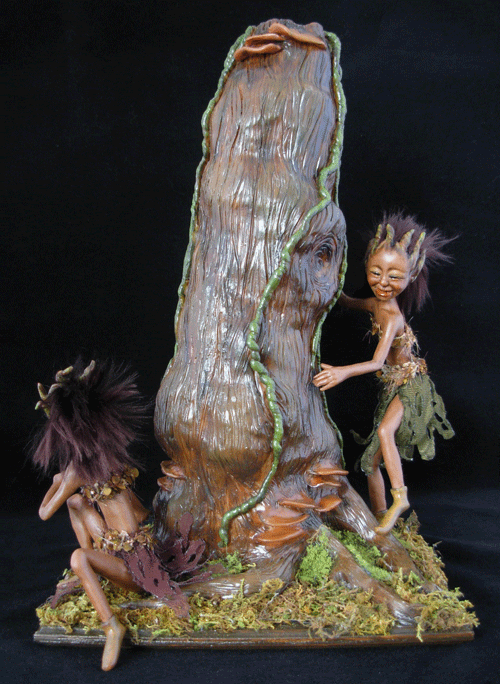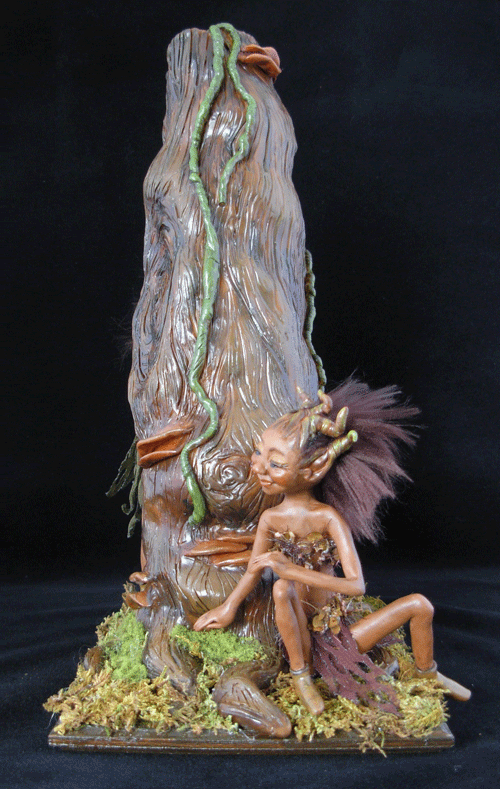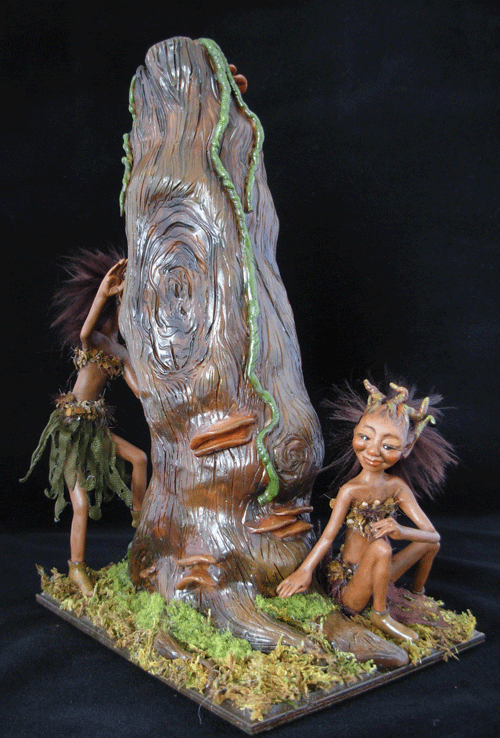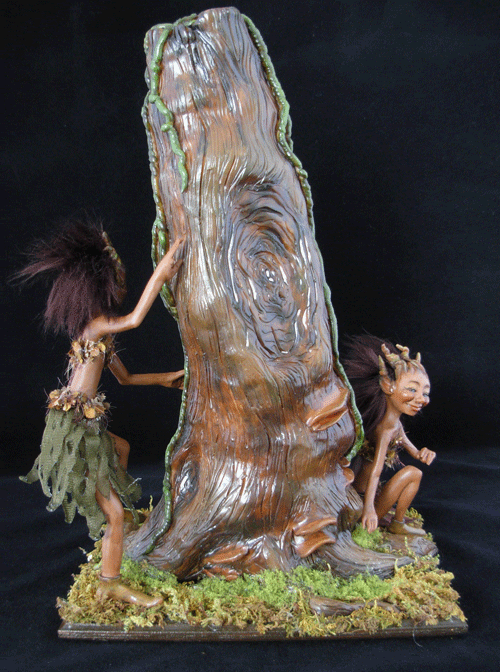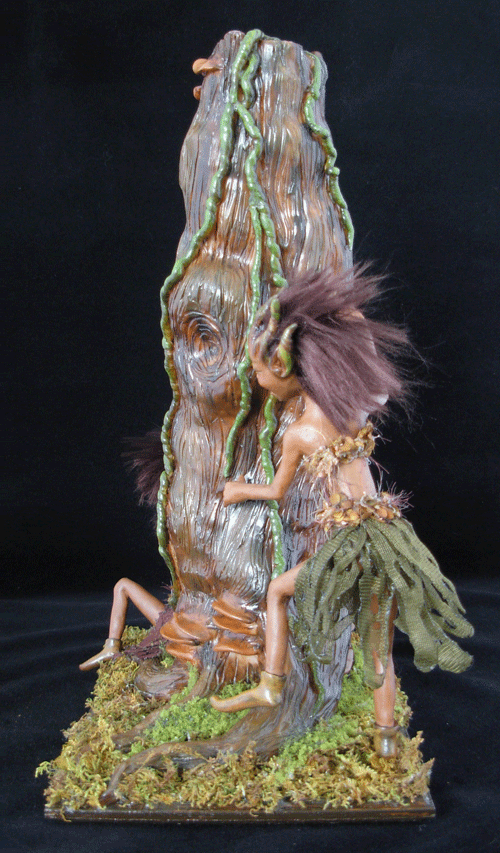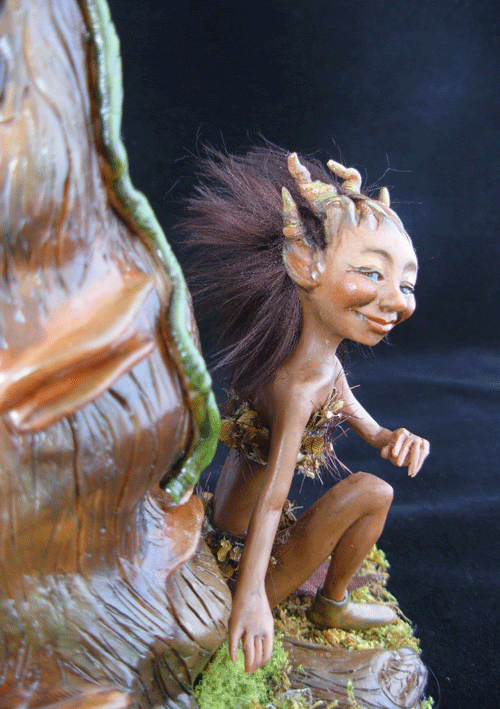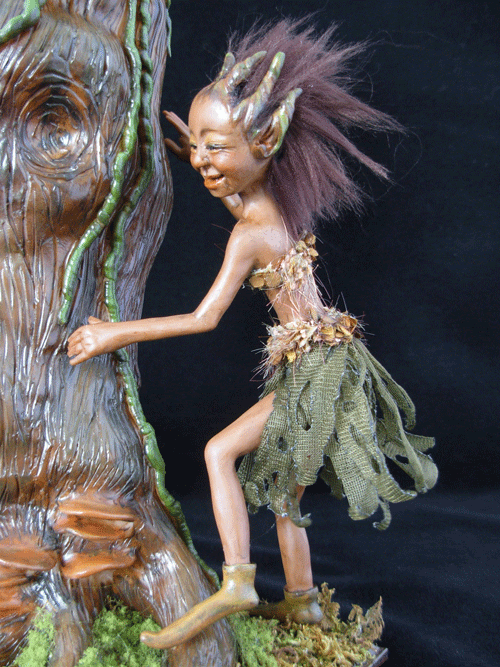 Now that we have finished up with "Hide and Seek", I wanted to share with you the latest bit of news as well. NOOOOO I'm not pregnant! *wipes brow* Good Lord help me if I was. LOL Actually, I was fortunate enough to have another one of my dolls selected for the Gallery in Doll Crafters and Costuming magazine for September 2010 issue. Perhaps you might remember the "Gypsy Spirit". She is another one of my favorites that I think I will have a hard time parting with her when that day comes. Here is a picture of her in case you don't remember her:
I really love her attitude and care-free spirit. One day, when I grow up, I want to have that same confidence about me too just as the gypsy spirit.
At any rate, I'm off for the time being to clear up the whirlwind of a mess the pixie muse created from playing "Hide and Seek".
Hugs,
Lori