First and foremost, I wanted to wish everyone a very Merry Christmas! I hope that your holiday is blessed and full of family and love and that the jolly man brings you all the things you are hoping for under your beautiful Christmas trees and stuffed stockings. :-)
I also hope that we never lose sight of what Christmas is really about, the one true gift: Peace, joy, love, hope and happiness all encompassed in the birth of a single child so many years ago. He is the reason we have the season.
Since Christmas has become a mechanized wonder of lights, sounds, taste, and smell, I wanted to bring to you my recently finished Santa. Unfortunately, he was the only one I was able to finish this year. He was a commissioned piece from a wonderful returning customer and I have to tell you, the customer was blown away! His wife is an avid Santa collector, so, he bought one of my Santa's last year for her for her present. She loved it so much, he knew exactly what he wanted to get her again this year! That's right, one of my Santa's! Boy was I ever excited to work on this fella. It is a wonderful feeling to have full reign of your creative freedoms when working on a commissioned project. Since his wife has been dealing with some health issues, I wanted to do something that would bring a smile to her now and for years to come. And, what better way to do that than with a puppet show with a couple of clowns. ;-)
And, so, we ended up with "The Puppeteer" Santa! Of course, the puppets are not full-blown marionettes, but they do have a certain amount of kinetics in their making. These little puppets have been such a hit with everyone, I may have to consider making them as ornaments or a doll or two in the future. :-D I will have to give it some more consideration. Perhaps you guys here in blogmania would give me some feedback and let me know what kind of interest there might be for that in the future.
At any rate, it is time to share with you this years Santa!
"The Puppeteer"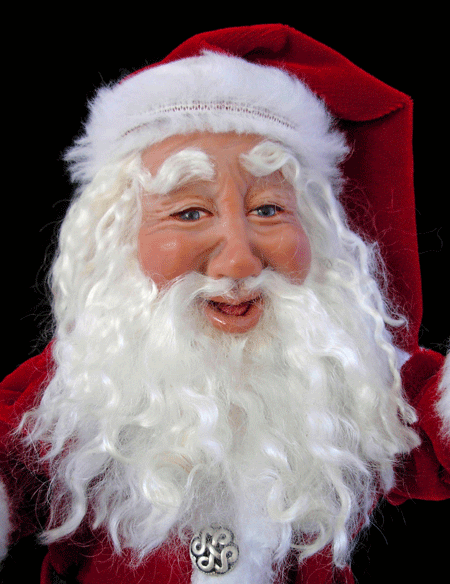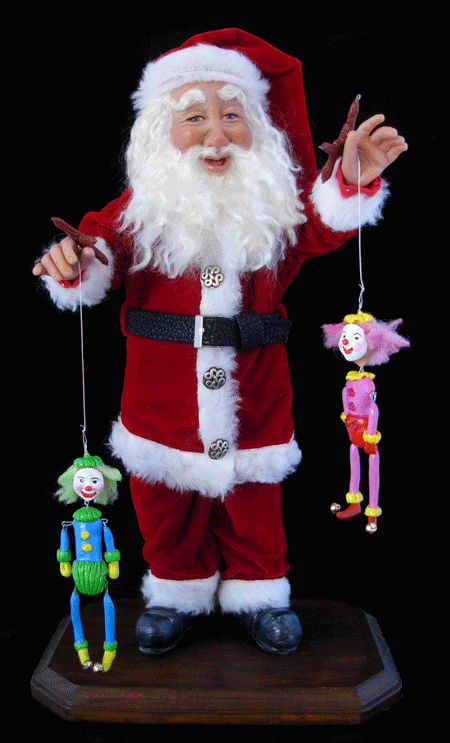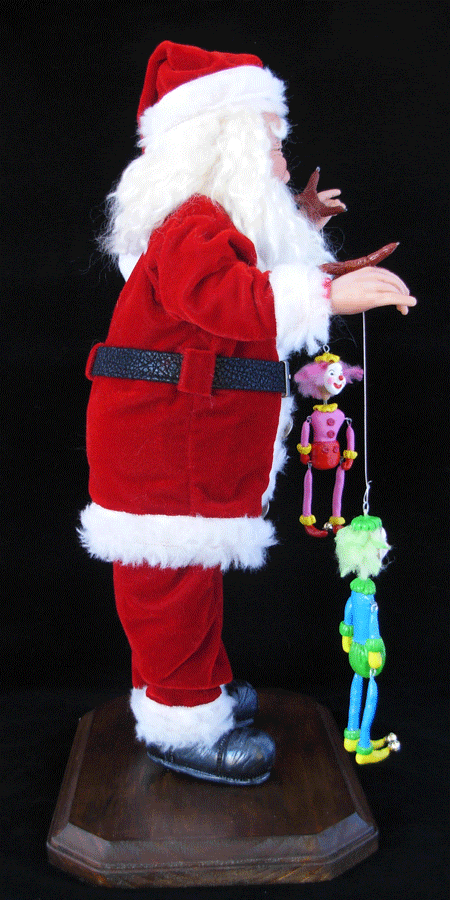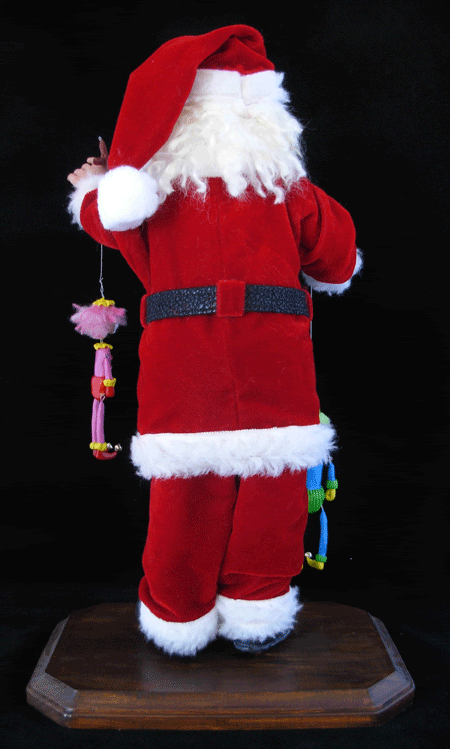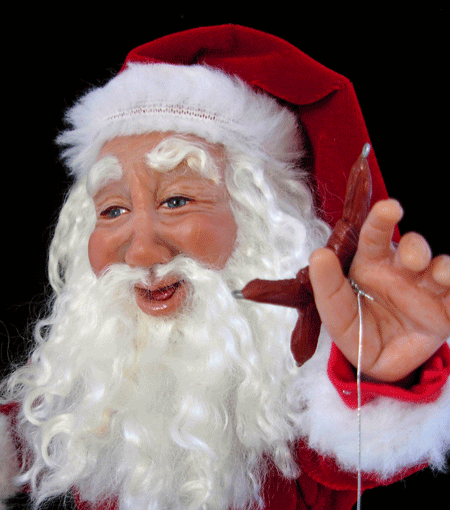 Now his 2 puppets!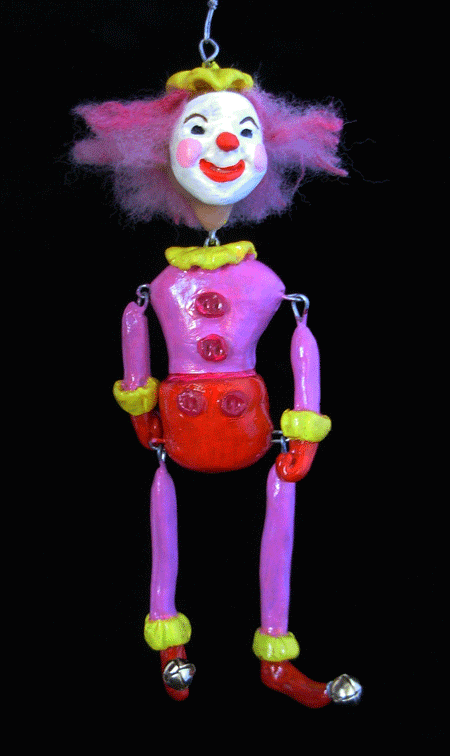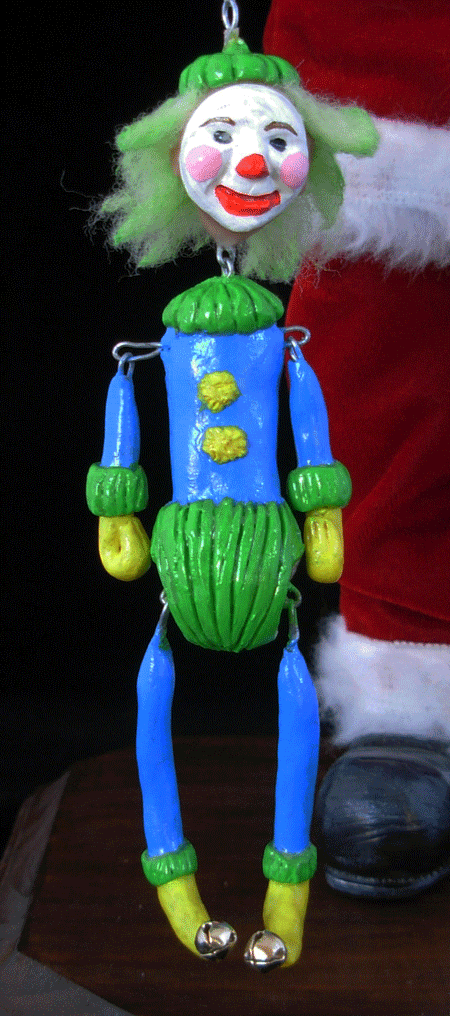 I hope you have enjoyed this years Santa. Hopefully, next year I will be able to create more than just the one Santa.
As for news and plans coming up in the new year, I am currently in the planning stages with my very happy santa customer about a commorative portrait piece for this year coming up. I have never done a portrait piece so this will be a challenge for me.
I will also be at IDEX Orlando at the end of January displaying a few of my dolls with the International Art Doll Registry. This is a HUGE step up for me and will be my first real show out in the art doll community. I can not tell you how excited I am about being able to show there....it's like a dream come true. It is a good stepping stone for me. Show in a group at first to learn the process, then, later, show at your own booth when you know what to do and are ready to step out on your own.
With my youngest son graduating high school this school year and becoming a man of his own, I will have more freedoms to be the artist that I would like to be and more freedom to travel and explore new avenues with my work. When one chapter of your life closes, another one always opens. This year marks the end of a 10 year cycle and begins a new one. I look forward to 2011 and what it brings to me as an artist. I know there will be wonderful opportunities ahead of me and many new friends to be made here in the future.
With that, I want to say to all of you, Thank You for your support and encouragement. When I was down and out, you were there to pick me up and give me hope. When I lacked faith in myself, you were always there with seeds of confidence to help me grow. With out your support I may not be where I am today.
Wishing you all a very Merry Christmas!