I have spent the first week of this new year thinking on what I wanted to accomplish this year. Not necessarily making resolutions, because often times, those are impossible to keep and set you up for failure. But, more or less, what I can do to improve myself by setting goals and accomplishments.
Like most of the population, losing a few pounds would be nice. Mind you, I don't want to be pencil thin, but going about looking like a dwarven lady or a halfling is not that appealing to me at all. Being vertically challenged and round...well, let's just say I need to work on that a little. :-D So, one of my goals to start walking or cycling every afternoon, weather permitting. Alongside that, modifications to eating behavior. muahahaha Might I add that I have failed miserably for the first week of this new year. No matter, I still have about 50 more weeks to go in order to get it right. lol After all, Rome was not built in a day. So, there ya have it folks. That is my personal goal this year. To be less of a couch potato and eat healhier. Let's see if I can accomplish it. :-D
Now, for my artistic goals! Everyone wants to create that piece of art that literally knocks the socks off of people. For some artist, it just comes naturally, and then, there are the scores of us that have to work hard at accomplishing such feats. This year I do not expect to knock your socks off, however, I would like to create something that really makes you say WOW! Over the course of the last few years, I have visited doll shows, visited numerous artist blogs and web pages, and watched while their muses hover over their shoulder guideing them to wonderful creations. All the while wondering if my own creative muse is visiting me on my own artistic journey. So, this year, I would like call on my muse to see to it that I make my pieces more involved. Whether that means costuming, props, or more dynamic poses for the characters, or maybe all of the above. I want to create works of art that are never boring to look at and bring years of enjoyment. So, that's my artistic goal.
Now with that said, a little insight to a few of the upcoming projects for this year that I am currently planning. Since I am a member of the International Art Doll Registry (IADR), I try to enter some of the contest that the group puts out because they help to focus on different ideas than what exist in the world in the Pixie Knoll. This year, the contest are as follows:
February: Art from the Soul
March: Nursery Rhymes
May: Masquerade
July: Elders
November: Winter Time
I do have a few other ideas rolling around in the old noggin', but those will have to stay there for the time being. :-)
Finally, for those that do not know yet, I will have a few pieces on display at the IDEX 2011 show in Orlando on the weekend of January 27-30 at the Rosen Shingle Creek Hotel. You can read about it here:
http://www.regonline.com/builder/site/tab1.aspx?EventID=713944
And of course, I still can not figure out how to create a link properly here in bloglandia, so if this link did not work, you can copy and paste it into your browser and read all about it and see who will be at the show displaying their work. Lots of old favorites and some new faces too. I will be displaying my work with the International Art Doll Registry group. It promises to be a very rewarding event. It is my first time displaying my work in such a MAJOR show venue.
So, now that we have all of the new stuff taken care of, we'll tackle the "out with the old" segment. The holidays were extremely busy for me since I was trying to finish up the few commissions that I had. Unfortunately, one of the commissions I had just didn't make it in time for Christmas delivery, though I tried to make that happen. Unfortunately, sometimes things take more time than we anticipate. So, without further adieu, here are the 2 final pieces of 2010. There were commissioned pieces of 2 mermaids that would be ornaments.
This is Calliope, she is about 8" long.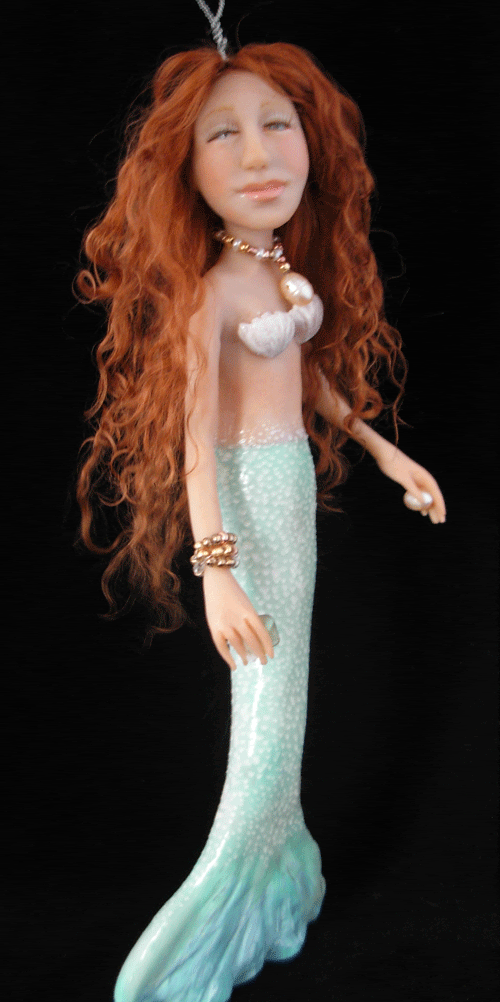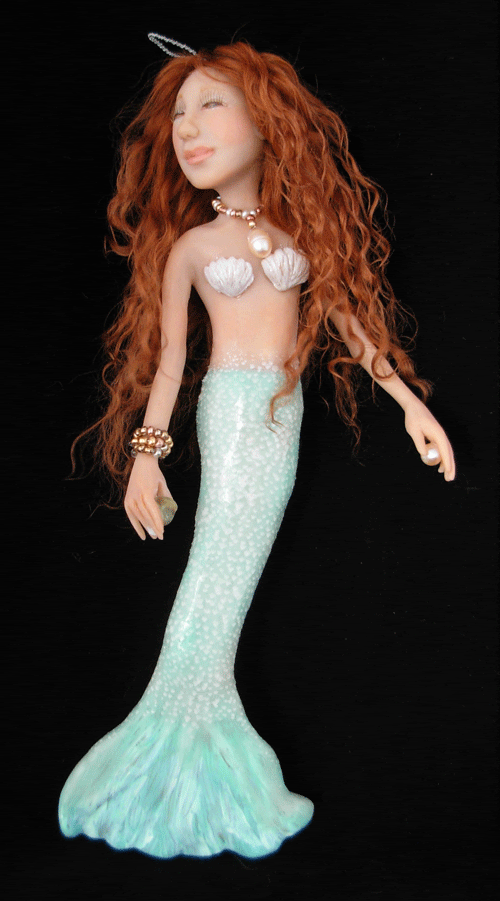 And this is Odessa, she is about 7.25" long.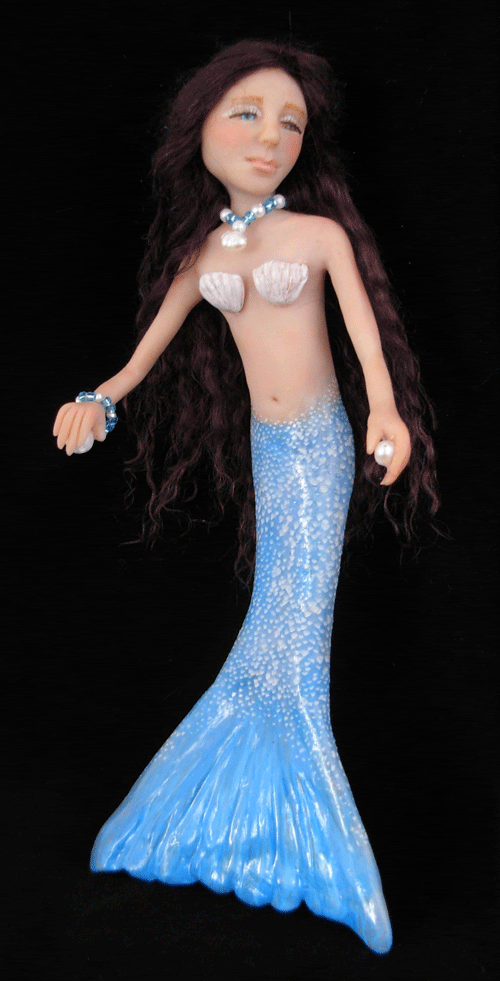 And this is Odessa with her hair not bound by pearls yet: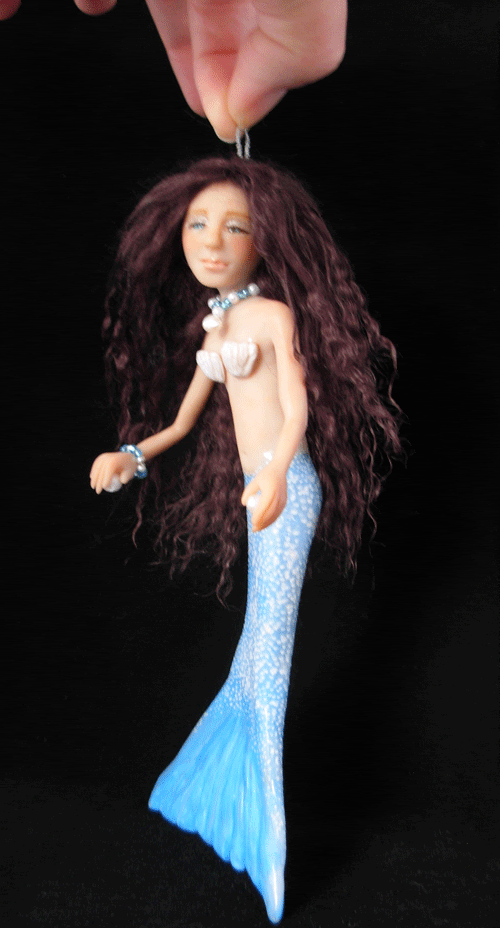 The pictures are not the best, but, I guess they will have to do now. haha Anyway, I hope you enjoyed the mermaids. :-D I learned a few new techniques while making them, so perhaps later, I can do a better mermaid when I have more time to devote to the project.
At any rate, I wish you all a Happy New Year. Soon, I will be back with the beginning of the Art from the Soul contest piece!
Hugs to all,
Lori