Finally, I have found my way here to post the lastest piece. He's been finished for a week now, but it was not until earlier today that I managed to steal away some time to take his photos.
As you can see, he is based on the childhood nursery rhyme, "Jack Be Nimble". I had wanted to create him in the likeness of the artwork by the well-known illustrator of children's books, Arthur Rackham. If you do not know who Arthur Rackham is, then, by all means, you must do a search of his fabled illustrations. His work is the thing of childhood imagination when it come to nursery rhymes, fables and fairy tales!
Jack Be Nimble was intended to be completed by March 31 for the International Art Doll Registry theme contest, but alas, I was not able to make that deadline. It being springtime, I have been fighting the nasty allergens and sinus infections that oft times come with the season.
Unfortunately, I hope you don't mind pictures because as usual, I had a hard time figuring out which ones to post here. :-D So, I must apologize for the heavy influx of pictures you are about to see. I would love to know if any of you think he does resemble the work of illustrator Arthur Rackham. It was my goal with this piece, and I wonder if I was able to accomplish it. Let me know! In the meantime, enjoy "Jack Be Nimble".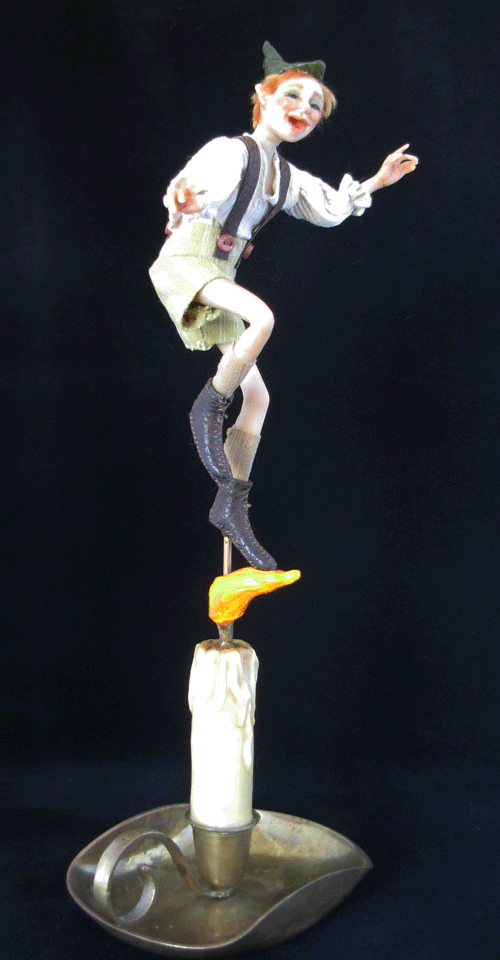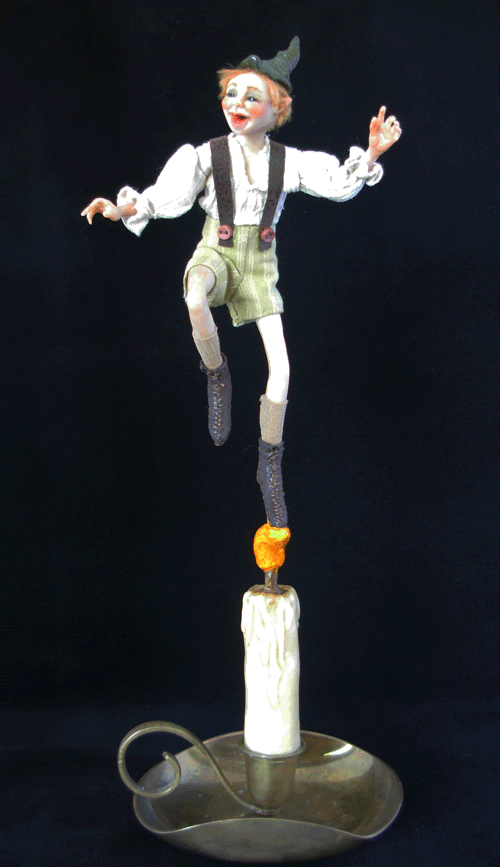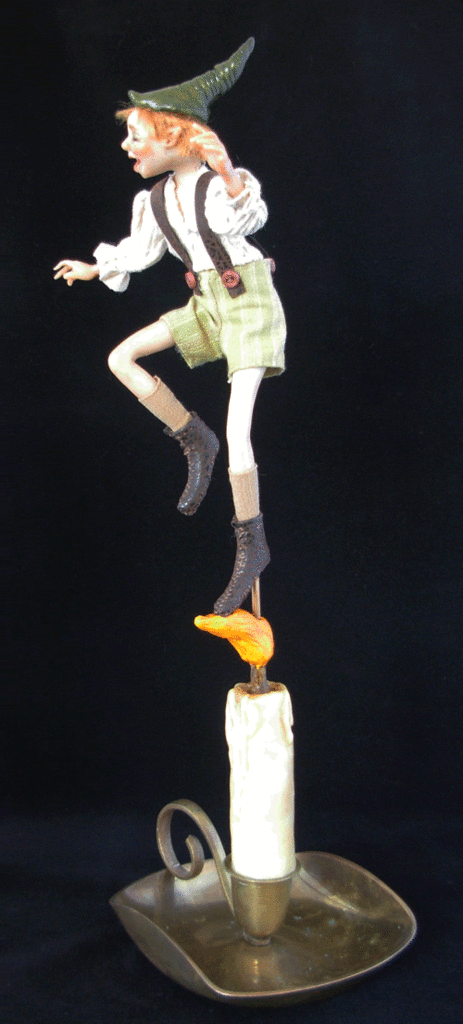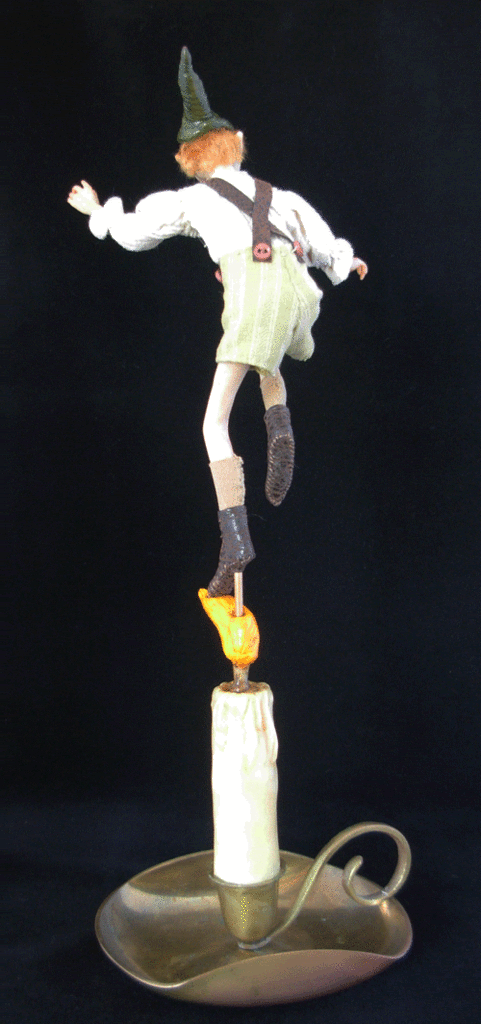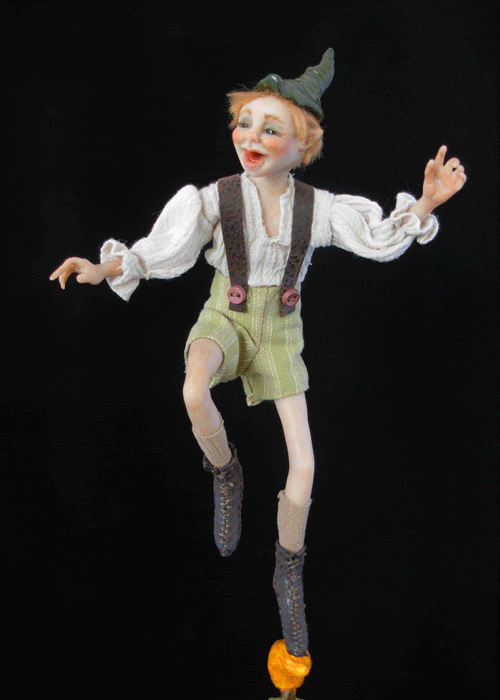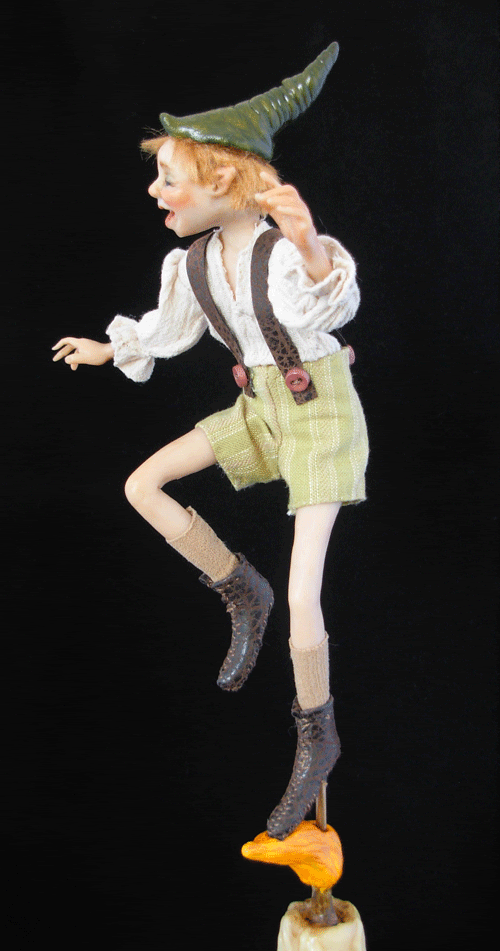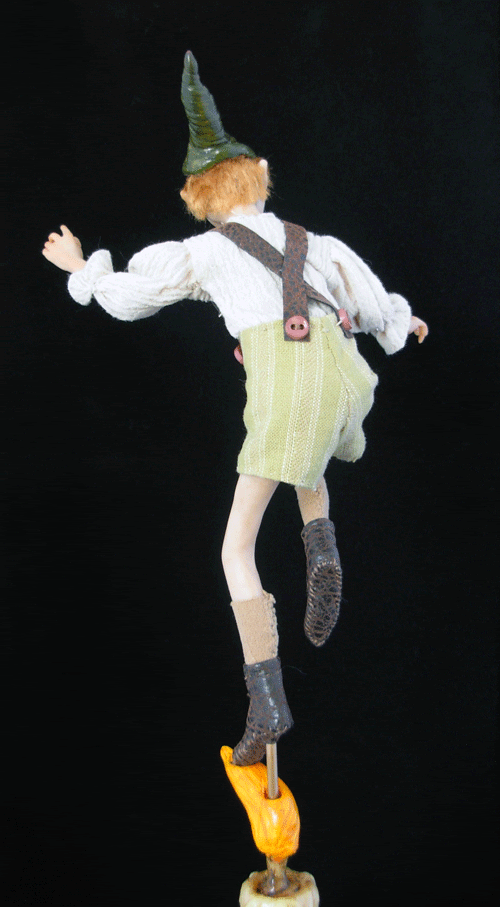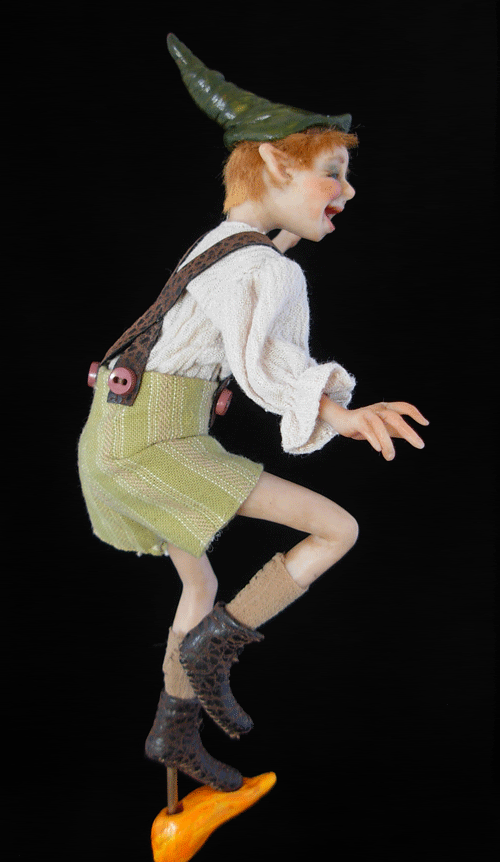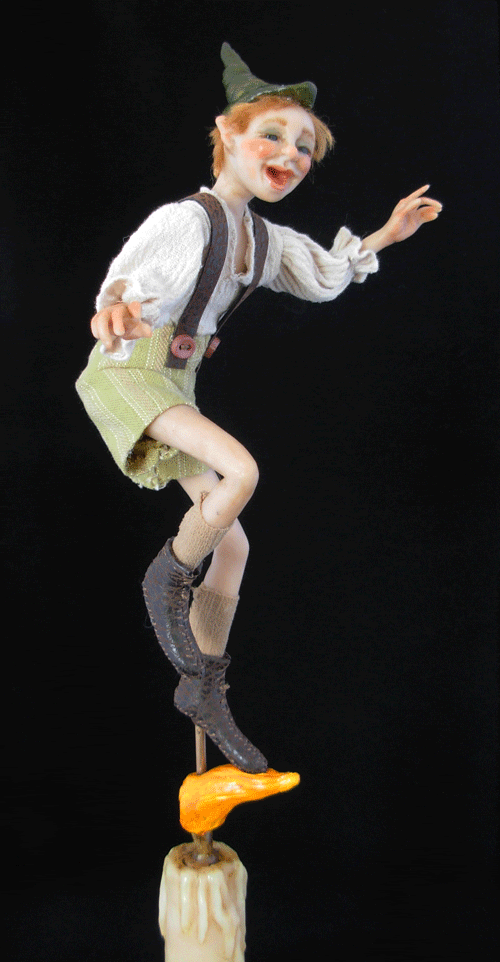 While you are digesting the bombardment of pics, I'll let you know what else is happening in the land of the Pixie Knoll. This past week, I was given the task of not 1, but 2 commissions! I am so excited and honored to have been selected to create these pieces.
One will be a princess fairy, and the other is a commemorative type piece with 4 animals/pets (all dogs) on it. The pets are going to be a bit of a task as the owner brought to me a nice wooden couch and a wooden armoire, but in miniature scale. He wanted me to create the 4 animals and position 2 of them on top of the couch, and the other 2 in front of the armoire. Well, I'm afraid my eyesight is not that good to do miniature-scaled objects. So, I'm having to compromise, either I'm going to have to recreate the couch and armoire at a bigger scale, or ask the owner to omit them. He is a very easy going gentleman and I think he will be happy with either way I suggest. We'll have to wait and see what he thinks.
As for the fairy princess, well, she is supposed to be based on the likeness of some photos I have of a very attractive young lady. The colors given to me are tiffany blue and silver, metal blue eyes, and brown hair. Now, if that isn't a tall order, I don't know what else is! haha
Now, that isn't the only thing that happened in the past week or two. Let me see...
I was fortunate to sell 3 dolls as well. One to a local lady. Another to a gentleman in the United Kingdom off of Ebay, and another on the East Coast here in the U.S from my Etsy store. So, I am thrilled that things are finally moving in a direction that doesn't feel so stagnated. Of course, it helps when you put your work out there so others can see it and show interest in what it is you do.
And, finally, the last big event that has happened is the possibility of me teaching a class! It is still in the beginning stages from what I understand. Really, a mere suggestion to be honest as I don't know if it will happen or now. The idea was brought to me from a nice lady who works for a psychologist who has expressed the interest in having a "clay" class for some of her patients that are veterans of the Iraqi war. Of course, I immediately expressed my interest. What better way to give back (even if it is a small thing such as teaching things in clay) to these brave men who have gone out to insure our safety and freedom for not only our country but that of others as well. In a sense, I feel it is a patriotic duty, and I am honored to even have been considered for such a wonderful thing as teaching these fine, brave men. We'll have to see what happens, but hopefully it will happen. It will be a good experience to teach a class; and I think I am fully capable of doing such a thing.
As always, thanks for stopping by the Knoll. Let me know what ya think of "Jack Be Nimble"!
Hugs to all,
Lori